A schematic of the May 9 ballot, provided by the Red Bank clerk. (Click to enlarge.)
See CORRECTION below
By JOHN T. WARD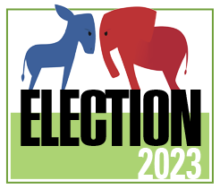 Incumbent Billy Portman will have the inside lane against challenger Tim Hogan in the two-candidate race for Red Bank mayor.
A drawing by borough Clerk Laura Reinertsen Wednesday also established the ballot positions for all 13 council candidates in the borough's first-ever nonpartisan election May 9.
At a brief noontime event attended by candidates and residents, Reinertsen conducted a drawing to determine the order of candidates' names on the ballot. The ballot will display one row for mayoral contenders and another for those seeking the six available council seats.
Reinertsen added a bit of flair to the occasion, using golden "eggs" containing names placed inside a decorated acrylic box, as seen here on video.
As a result of the drawing, Portman's name will appear to the left of Hogan's on the mayoral line, each above their respective slates' names: Red Bank's Ready and Red Bank Together.
On the council line, with six seats at stake, the Red Bank Together team will be to the left and the Red Bank's Ready slate on the right, with unaffiliated candidate Suzanne Viscomi, self-styled as "Dedicated to Red Bank," between them.
In name order, from left, the candidates will be displayed as:
Jacqueline Sturdivant,  Sean Murphy,  John Jackson, Linda Hill, Erin Fleming and Michael Ballard, all for the Red Bank Together team; Viscomi; and then the Red Bank's Ready slate of Kate Triggiano, Ben Forest, Nancy Facey-Blackwood, Laura Jannone, David Cassidy and Kristina Bonatakis.
Sturdivant, Ballard, Jackson and Triggiano are incumbents. NOTE: This sentence originally mistakenly dropped Jackson's name.
Under the nonpartisan format, candidates run without their party affiliations, if any, listed on the ballot, according to final report of the 2022 Charter Study Commission. Except for Viscomi, an independent, all in the race are Democrats, the party that has dominated borough politics for more than 30 years, though it has fractured into two blocs in recent years.
CORRECTION: According to a spokesperson for the Red Bank Together slate, Hogan and Fleming are registered independents.
Studies have found that voters tend to select candidates "first position" candidates.
On July 1, the new mayor and council will be seated. At the same time, the borough form of government in place since 1908 will be reconstituted under the council-manager form available to municipalities under New Jersey law.
If you value the news coverage provided by redbankgreen, please become a financial supporter for as little as $1 per month. Click here to set your own level of monthly or annual contribution.