Incumbents Billy Portman and Kate Triggiano led a slate that swept all seven offices on the ballot. (Photo by John T. Ward. Click to enlarge.)
By JOHN T. WARD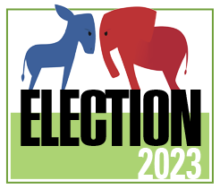 It's official: incumbent mayor Billy Portman won re-election with nearly 61 percent of the vote in Red Bank's May 9 election.
Borough Clerk Laura Reinertsen certified the win by Portman and his Red Bank's Ready slate of council candidates Wednesday.
Riverview Medical Center President Tim Hogan garnered just 38.5 percent of the vote, marking Portman's third consecutive victory since getting into politics 13 months ago.