On the ballot November 2: charter study commission candidate Tom Wieczerzak. (Photo by John T. Ward. Click to enlarge.)
Red Bank voters will have 11 candidates to choose from when they elect a five-member charter study commission November 2.
Here's what candidate Tom Wieczerzak had to say in response to a questionnaire sent to all contenders by redbankgreen.
Thomas R. Wieczerzak
Age: 40
Address: 26 Oakland Street
Length of residence in town: 7 years
Is Red Bank's present form of government problematic? Please explain your answer:
There is not necessarily a problem with the form of government in Red Bank rather an issue with how Red Bank has evolved in the construct of our community and what has become a rut of how one political party essentially runs the Borough. This is a complex answer as there are many factors that contribute towards the form of government being problematic versus being a model of efficiency and service delivery to our residents, businesses and visitors.  The changes through the decades with businesses, residential construction increasing in size and density to the various multiuse developments made Red Bank look much different and even function much differently than it did 50 and 100 years ago.
Overall, I think Red Bank has an issue of how the present form of government is administered therefore the charter commission (and Borough residents) have a fantastic opportunity to assess the various forms of government that could be applied to Red Bank to address our issues of today.
What would you bring to the table as a commission member?
I am very experienced in the field of public administration and public safety directly working through levels of local municipal government, local municipal authorities/boards, federal to my current executive level position within a bi-state transportation agency managing fire protection at a major metropolitan airport.
Through my robust educational and workplace experience I have been successful in navigating the complexities of various levels of government in the positions I have served. In my current position I have responsibilities in labor management, government operations, budget development, standards and so on. To further my experiences, the environment I have worked in have been, at times, politically divided and complex which makes management style and approach critical to achieve results.
I believe my education and professional experiences will be of a great benefit to the Red Bank Charter Commission which is the motivation for me to run. This is truly an exciting opportunity to be a part of for Red Bank.
Here are redbankgreen's Q&As with the other charter study commission candidates:
***** ELECTION GUIDE ***** 
• The election of the five-member charter study commission is on the ballot along with a referendum on whether the five-member commission should be formed to review Red Bank's 113-year-old form of government.
Here's the specific wording of the public question:
Shall a charter commission be elected to study the charter of the Borough of Red Bank and to consider a new charter or improvements in the present charter and to make recommendations thereon?
If the referendum passes, the commission's eventual recommendation to the council could lead to change in the form of government used by Red Bank since 1908.
If the referendum fails, the election of the commissioners would be moot. Voters may choose candidates even if they vote 'no' on the question about the charter study.
• Find the Red Bank ballot here.
• For information on the various ways to cast your vote, check out this article. It includes information on mail-in ballots and early, in-person voting, which begins October 23.
Information about election-related deadlines is here.
• Monmouth County election offices (300 Halls Mill Road, Freehold Township) will offer extended hours to allow voters to apply for and drop off vote-by-mail ballots. The offices will be open on Friday, October 29 from 8:30 a.m. to 7 p.m., and Saturday, October 30 from 8:30 a.m. to 1 p.m.
• In-person, election day voting will take place at the polling stations shown below. Polls will be open from 6 a.m. to 8 p.m.
Note that in-person, election day voting for residents of the 1st and 8th districts will take place at borough hall (90 Monmouth Street).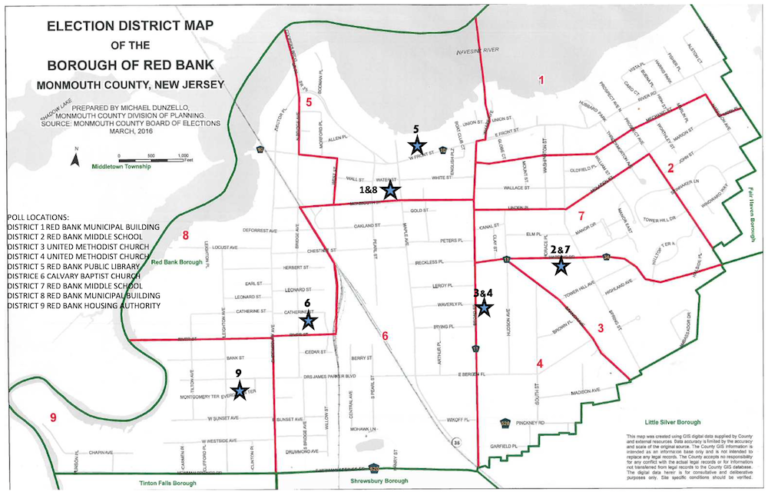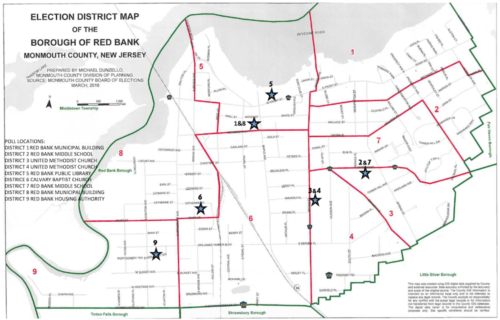 • Finally, here's a video on using Monmouth County's new digital voting machines, which employ touchscreen technology familiar to users of smartphones and tablets:
If you value the news coverage provided by redbankgreen, please become a financial supporter for as little as $1 per month. Click here to set your own level of monthly or annual contribution.