On the ballot November 2: charter study commission candidate Ben Forest. (Photo by John T. Ward. Click to enlarge.)
Red Bank voters will have 11 candidates to choose from when they elect a five-member charter study commission November 2.
Here's what candidate Ben Forest had to say in response to a questionnaire sent to all contenders by redbankgreen.
Benedict (Ben) J. Forest
Age: 59
Address: 16 Locust Ave, Red Bank
Length of residence in town: 25 years
Is Red Bank's present form of government problematic? Please explain your answer:
I think Red Bank's current form of government in is problematic. I am going to listen to the argument's pro and con on partisan government; but at this point I am leaning towards a non-partisan for of government. Here are some of my main concerns:
1. I think having a town election every year is divisive and unnecessary. I would like to take a closer look at what other towns are doing. Elections every year have also contributed to – short term political thinking. Not to mention how exhausting and stressful it is to have elections every year. Twice if you count the primaries.
2. While am a proud and active member of the Democratic Party.  The partisan system – on a local level – is too much of a small club. Candidates are chosen by a few people (18) in what amounts to a closed system. We are one of only a handful of states that allows party chairs to who decide who get on the "line". This discourages new people from running for office and even harder to win as they are sidelined on the ballot roster. The recent "no line" Democratic primary only happened because of the county organization intervening, overruling the local party. We want to encourage more people to run for office and serve, not less.
What would you bring to the table as a commission member?
I am the longest servicing member of the Red Bank Borough Board of Education with experience being elected to and working on this non-partisan body.  For three terms, I served as Board President. I have been a local activist and volunteer since moving to Red Bank in 1996.
While I currently run a small computer support business, I worked for 17 years as a reporter covering towns and cities with different forms of government. I have seen the good, the bad and the ugly in local governance. If elected to the Charter Commission, I will take my oath of office very seriously. I would like to visit other towns and get first-hand information on what types of government could be a good fit for our unique community before voting for a specific recommendation to be placed on the 2022 ballot for all Red Bank voters to ultimately decide what is best for our town.
Here are redbankgreen's Q&As with the other charter study commission candidates:
***** ELECTION GUIDE ***** 
• The election of the five-member charter study commission is on the ballot along with a referendum on whether the five-member commission should be formed to review Red Bank's 113-year-old form of government.
Here's the specific wording of the public question:
Shall a charter commission be elected to study the charter of the Borough of Red Bank and to consider a new charter or improvements in the present charter and to make recommendations thereon?
If the referendum passes, the commission's eventual recommendation to the council could lead to change in the form of government used by Red Bank since 1908.
If the referendum fails, the election of the commissioners would be moot. Voters may choose candidates even if they vote 'no' on the question about the charter study.
• Find the Red Bank ballot here.
• For information on the various ways to cast your vote, check out this article. It includes information on mail-in ballots and early, in-person voting, which begins October 23.
Information about election-related deadlines is here.
• Monmouth County election offices (300 Halls Mill Road, Freehold Township) will offer extended hours to allow voters to apply for and drop off vote-by-mail ballots. The offices will be open on Friday, October 29 from 8:30 a.m. to 7 p.m., and Saturday, October 30 from 8:30 a.m. to 1 p.m.
• In-person, election day voting will take place at the polling stations shown below. Polls will be open from 6 a.m. to 8 p.m.
Note that in-person, election day voting for residents of the 1st and 8th districts will take place at borough hall (90 Monmouth Street).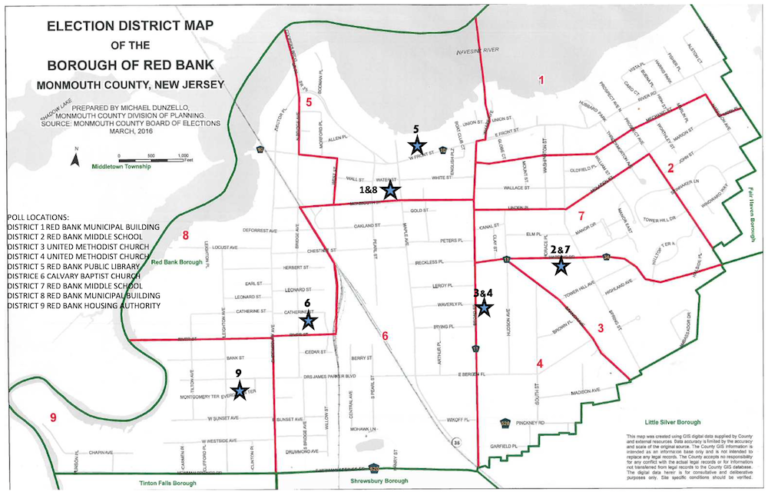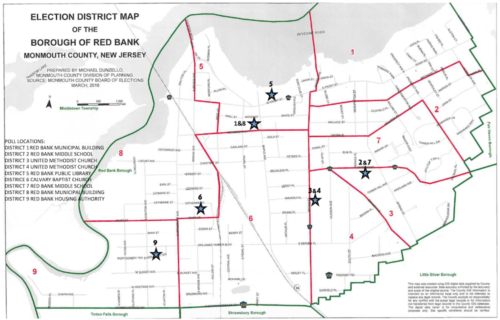 • Finally, here's a video on using Monmouth County's new digital voting machines, which employ touchscreen technology familiar to users of smartphones and tablets:
If you value the news coverage provided by redbankgreen, please become a financial supporter for as little as $1 per month. Click here to set your own level of monthly or annual contribution.