On the ballot May 9: Red Bank council candidate Ben Forest. (Photo by John T. Ward. Click to enlarge.)
Red Bank voters will have 13 candidates to choose from when they elect six council members May 9.
Here's what candidate Ben Forest said in response to a questionnaire sent to all by redbankgreen.
Name and age: Ben Forest age 60
Street address: 16 Locust Ave
Where did you grow up? Mostly raised in Tinton Falls NJ, Nyack NY, and one year in the Netherlands. I was born in Staten Island NY.
Where did you go to high school? Monmouth Regional High School, Tinton Falls
If you hold college or graduate degrees, where did you earn them, and in what areas of study? No
Have you served in the military? If so, which branch and when? No
How long have you been a resident of Red Bank? 27 years in the same house on the West Side
Do you own your home? Yes
What do you do for a living, and who is your employer? Computer Support (Apple), Self-employed Computer Consultant
What, if anything, about your work makes you particularly suited to serve as an elected official?
Work skills that are suited to serving include: customer service, task management, always learning and teaching others, dealing with stressful situations, being a good listener, troubleshooter and problem solver.
Please tell us about your community involvement efforts, if any.
West Side Neighborhood Group volunteer, New Jersey Friends of Clearwater Board Member, former President and festival coordinator. Regular attendee of town meetings and functions for over two decades. Elected to the Red Bank Borough Board of Education for 19 years, Board President 3 terms (led Board during hiring of current Superintendent). Elected to the Red Bank Charter Study Commission in 2020. Elected as 8th district Democratic Committee Member in 2022. Long time Board Member of New Jersey Clean Water Action.
Your party affiliation, if any: Democrat
Is party affiliation important to you? What does it mean to you to be a member of your party?
I identify with the values of being a Democrat. It does not mean that much in terms of how I approach local governance. I currently serve on the non-partisan Board of Education.
Why are you running for office?
I am interested in seeing the recommendations we made on the Charter Study Commission carried out successfully. I have a long-time interest in policy and local government. I like helping people.
What are the most pressing issues facing the town, and what specific initiatives can voters expect from you if you are elected?
Our highest priority must be the hiring of the Borough Business Administrator (BA). This would be followed by goal setting, proper supervision and evaluation process of the BA. We must take steps to depoliticize decision making and most importantly address the mismanagement of our public facilities.
Do you expect the change to a council-manager form of government starting July 1 to improve the governance of Red Bank over the existing borough form? Please explain.
I would recommend looking at the report and recommendations from the Charter Study Commission and the Management Enhancement Report commissioned by the Borough. With that said, the clearer lines of accountability should improve town operations. Electing suitable officials is essential. Our expert witnesses at the Charter Study Commission said that good competent elected officials are key. A better government structure alone is not enough.
Do you believe the council meetings in recent years have been unnecessarily acrimonious? If so, what specifically should residents expect from you to address the situation?
Yes. I think it depends on who is elected and how everyone conducts themselves. I will act as I have in my various roles on the Red Bank School Board. I hope whoever wins the election, has a similar mature and deliberative process going forward.
What qualities will you prioritize in selecting a borough administrator?
My preference is someone with a track record. Talk is cheap.
This person should possess an attention to detail; manage a lot of tasks well; make corrections as needed and own up to their mistakes; able to deal with residents well; have a knowledge of municipal law; able to supervise, hold staff accountable, delegate and mentor.
Is Red Bank doing all it can to keep the municipal portion of the tax rate in check? If not, what should be done that is not being done?
No. Poor management is a core problem. It has unnecessarily increased our costs particularly around town facilities. We need short- and long-term plans for what we need and how we are going to pay of it. Staffing is also an ongoing challenge. I want good services delivered efficiently; easy to say but hard to do. I have experience with this as a member of the Board of Education.
Can Red Bank afford and manage to simultaneously take on the rehabilitation of the municipal public works yard and borough hall; the contamination cleanup at the former landfill; and the redesign of Marine Park?
With difficulty…I hope that our new administrator as well as our governing body will be effective at lobbying on the town's behalf for outside funding. It may be that the revenue from cannabis sales may help.
Who should have the lead role in guiding large-scale capital projects?
Our business administrator should oversee capital projects and delegate as needed. I'm not opposed to appointing skilled individuals in an advisory role under the supervision of the Borough Administrator who ultimately is held accountable to the Council and residents.
Do you support the Kimley-Horn proposal for redesigning Marine Park, including the relocation of the parking lot to the former site of tennis courts?
Yes, but I do view their recommendations as subject to modification. They created a concept plan and had an extensive public process at which time I gave input.
Currently, I do think moving parking to areas that are subject to the most repeated flooding makes sense maybe reduce the total amount of parking there while increasing recreational area would be better; but I do not think waterfront tennis courts are the best use of this amazing location. I would support expansion of tennis and related recreations uses elsewhere in the Borough. If elected to the council, I certainly will keep an open mind – listen and consider all points of view before voting for final approval of project.
Should the former landfill at the wester end of Sunset Avenue to redeveloped as a park?
No. The toxics at the site must be remediated to standards that protect our most vulnerable, the kids. Maybe someday it might be safe to walk and bike through via a path, sit on a bench and allow visual access to the Swimming River, but not now.
I would not approve a park without support from the adjacent neighborhood. Additionally, I do not see how we can afford to build and maintain an additional park in the near term since we are having challenges running what we have now.
Given the large number of kids in the area. I would like to see a playground in the vicinity, but not on the former dump site.
Is the borough doing enough to encourage and safeguard walking and biking? What additional measures, if any, do you think are needed?
No. This is an ongoing issue. I do see some improvements in enforcement and would like that to continue. I want Red Bank to be walking and bike friendly. We moved here to be in a walking town.
Should Broadwalk be an annually recurring feature? Should any changes be implemented?
Yes. We should take steps to lessen the impacts on residents and businesses that do not benefit from it. I think the Boardwalk has added greatly to the experience of our downtown.
Do you support the effort to revise the 2021 cannabis zoning ordinance? Why or why not?
I support tweaks, clarifications. The current proposal is a mess.
Any changes to the current restrictive ordinance, should've been proposed a year or more ago. Now the rules for cannabis businesses are being changed at the 11th hour. The whole point of this of course was to bring more money into the borough, not to have our town in costly litigation with the cannabis businesses and investors.
Any future changes need to be made carefully. I have not seen the final version of the ordinance; but I am ok with placing a limit on the number licenses. I have been a longtime proponent of keeping it away from our schools which includes our downtown as there are schools there. I am not in favor of public smoking which is included in the current restrictions.
I am disappointed that the issue has been politicized. The existing ordinance is quite restrictive. The voters have spoken clearly on this topic. It's a new thing for our town. There are fears. The Borough should be taking a lead in providing good information and making this a success for all.
Do you support the short-term rental ordinance adopted by the council in February? Why or why not?
No. It is really a ban for all intents and purposes of Airbnb's. I support a restrictive ordinance that allows short term rentals, but only in owner occupied homes/properties. No investor-owned properties should be allowed to operate Airbnb's in the Borough.
Should the council rank the recommendations of the new Master Plan for action? If so, which recommendations would you put at the top of the list?
Probably a good idea. I have not had time to sort through the many dozens of recommendations, so I do not have an answer yet on this.
Do you favor a transit village designation for the area around the train station, as recommended in the 2023 Master Plan? Why or why not?
Yes. I believe we would qualify for grants and other improvement funds.
What if anything should Red Bank's government do to create opportunities for new, affordable housing?
If elected, I plan to reach out to affordable housing advocates to see what else we can do. This is an issue that affects the entire state and nation.
To the extent that the Red Bank Council can zone and support new affordable and low-income housing, I will be there for that.
I do support having – am grateful for – the public housing that we have for our seniors and families. I agree with the Council's recent actions to support it.
It's good for our residents and downtown to live and work in an economically diverse community.
Are there any reasons for Red Bank residents to be concerned about Tim Hogan serving as mayor in light of his role as president and chief executive officer of Riverview Medical Center? Why or why not?
His running for mayor and staying on as CEO of Riverview is absurd. I think it is bad for BOTH Riverview and our town. If elected Mayor in our new Council-Manager form of government, he is the liaison between the governing body and our borough staff. Hogan will not be able to just "recuse" himself from everything.
The potential conflicts are endless. Board appointments, property acquisitions, parking, litigation with the hospital etc. I am really stunned he is doing this and even more disturbed that his Board at the hospital system has apparently signed off on this. This is in addition to the other major town non-profit entity that Mr. Hogan serves. Red Bank voters cannot allow this.
My two kids were born at Riverview. My daughter's life was saved in the emergency room by their amazing staff. I am so grateful to have the hospital in our town. Mr. Hogan seems to be doing well in that role and hope he stays in the capacity.
Are there any reasons for Red Bank residents to be concerned about Billy Portman serving as mayor? Why or why not?
No more than any other person serving in any office. The Mayor is a general contractor and does not work in town that I am aware of. He is doing a great job so far in the short time that he has served as mayor. He is working to bring people together and build a sense of community with events like Porch Fest.
Please add anything you'd like here:
I am passionate about our town, raised our two children here and plan to live in Red Bank for the rest of my life. I want our neighborhoods as well as our businesses areas to be successful.
I take my many years of service seriously. I have learned to be patient, listen well as well as apply my critical thinking skills to solve problems. I am far more concerned with doing what's best for the town in the long run, as opposed being popular and have zero interest in the toxic political gamesmanship we have seen in recent years.
To that end, I have a long-term public record of service to the people of Red Bank. I have served on the (non-partisan) Red Bank Borough Board of Education for 19 years including three terms as President. I led our process hiring our current Superintendent, as well as my work on the Curriculum, Finance, and Policy Committee.
In 2021, I was elected to serve on the Red Bank Charter Study Commission, a nine-month investigation/review process, which ultimately recommended the new more accountable "Council – Manager" form of government, nonpartisan elections as well as fewer municipal elections (every two years). Red Bank voters adopted these recommendations by a 2–1 margin in 2022. My background as a reporter was useful as I covered local government issues for 17 years. I saw firsthand what works and doesn't.
I am honored to serve as a Trustee on Red Bank RiverCenter board as the Mayor's Representative. I love our town businesses. They add much to our quality of life, as well as jobs for residents and tax revenue. I advocate at RiverCenter for our residents and neighborhoods.
Since buying a home here in 1996, I regularly attend and speak up at town Council, Zoning, and Planning Board meetings. I have advocated for improvements in our town plan, opposed over-development, and not been shy at taking public positions as a resident on issues we have faced.
Lastly, my current job experience as a computer consultant and running a small customer-service business could prove to be helpful if elected to Council.
My most pressing concern is to end the politicization of municipal decision-making and ensure data-based decisions are made in the best long-term interests of our community. I would focus on the state of our town facilities. Additionally, I would get our house in order by selecting a chief administrator, setting goals, holding s/he accountable, and then make sure the council does not meddle in the town's day-to-day operations. This has proven to be a very effective approach at the Red Bank Borough Board of Education.
Core objectives: Complete upgrades at Marine Park. Make improvements in pedestrian safety. Prevent over-development while encouraging affordable housing for residents. Being responsive to residents on issues large and small.
*****
ELECTION NOTES
• Find the Red Bank sample ballot here.
• Early, in-person voting will be available at borough hall (90 Monmouth Street) from Friday, May 5, through Sunday, May 7. The hours are 10 a.m. to 8 p.m. Friday and Saturday, and 10 a.m. to 6 p.m. Sunday. No other polling stations will be open for early, in-person voting.
• In-person, election day voting will take place at the polling stations shown below. Polls will be open from 6 a.m. to 8 p.m.
Note that in-person, election day voting for residents of the 1st and 8th districts will take place at borough hall (90 Monmouth Street).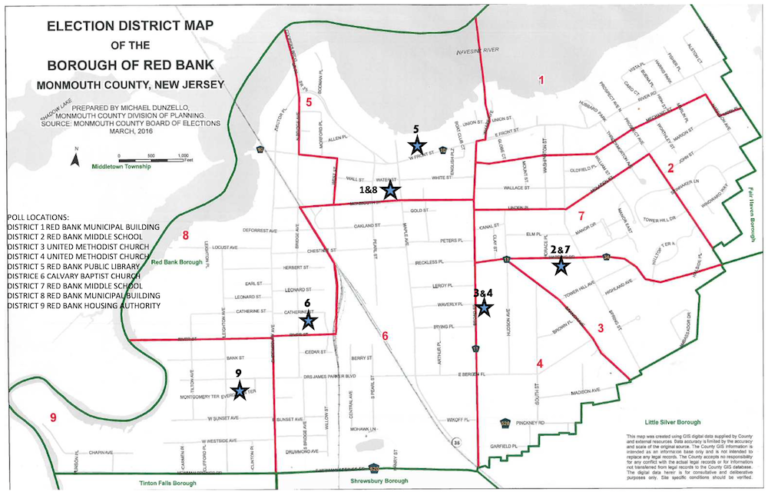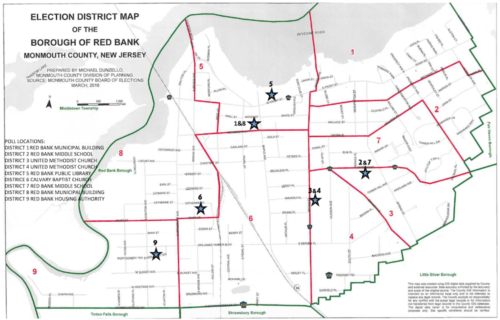 • Finally, here's a video on using Monmouth County's digital voting machines, which employ touchscreen technology familiar to users of smartphones and tablets:
If you value the news coverage provided by redbankgreen, please become a financial supporter for as little as $1 per month. Click here to set your own level of monthly or annual contribution.