Councilmembers Ed Zipprich, center, and Michael Ballard with Kathy Horgan in January, 2018. (Photo by John T. Ward. Click to enlarge.)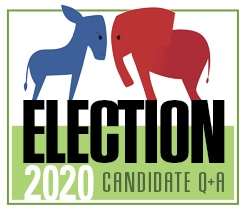 Neither of the two incumbents seeking re-election as Red Bank council members responded to questions sent to them by redbankgreen last week.
Democrats Ed Zipprich, seeking his fifth three-year term, and Michael Ballard, seeking his second, are running unopposed in the November 3 election.