On the ballot May 9: Red Bank council candidate Sean Murphy. (Photo by John T. Ward. Click to enlarge.)
Red Bank voters will have 13 candidates to choose from when they elect six council members May 9.
Here's what candidate Sean Murphy said in response to a questionnaire sent to all by redbankgreen.
Name and age: Sean Murphy  59 years old
Street address: 44 Throckmorton Ave.
Where did you grow up? Red Bank
Where did you go to high school? Red Bank public schools and RBR Class of 82
If you hold college or graduate degrees, where did you earn them, and in what areas of study?
Have you served in the military? If so, which branch and when? No
How long have you been a resident of Red Bank?  59 years
Do you own your home? Yes
What do you do for a living, and who is your employer?  I am a member of Local 1 I.U.E.C. I am currently working for Schindler Elevator as Lead Foreman in the Large Project Division.
What, if anything, about your work makes you particularly suited to serve as an elected official?
I oversee up to 60 employees, and I coordinate our work with the other building trades. It is my job to bring the jobs under budget and on time, to keep my team working together, to reach consensus on issues that come up and to make sure we all remain safe while on the job.
Please tell us about your community involvement efforts, if any.
I have served on the Red Bank Volunteer Fire Department. I coached for Red Bank Recreation and eventually ended up on The Parks And Recreation Committee. I served as District leader for the Red Bank Democrats for several years. I have been serving on the Zoning board now for the past 10 years.
Your party affiliation, if any: Democrat
What does Is party affiliation important to you? it mean to you to be a member of your party? I don't believe it is as important in local politics.
Why are you running for office? 
This is my first time running for office. As a lifelong resident I feel that there are many issues that need to be addressed, the first being getting the council to be able to work together instead of all the fighting and delays we see at every meeting.  My father in law was on council for years and so was my brother.  They worked with everyone to get the job done.  Over the last five years, the Council has gone from working for Red Bank to one side fighting the other and I don't think it's good for the town or our future.  I want to be part of a team that knows how to work together, that's why I joined Tim Hogan and the Red Bank Together team.  We don't always agree, but we figure out a way to get to agreement.  That's what the council is supposed to do.
What are the most pressing issues facing the town, and what specific initiatives can voters expect from you if you are elected?
Hiring a Business Administrator that will do what is right for Red Bank and not outside interests will be the most important. I would also like to see better enforcement of existing codes and ordinances. It is been way too long leaving Marine Park looking like it does. We just need to clean it up, install some pickle ball and tennis courts, some green space, and definitely do not cover it up with a parking lot.
Do you expect the change to a council-manager form of government starting July 1 to improve the governance of Red Bank over the existing borough form? Please explain
I think it will all depend on who we hire to be a strong Administrator.
Do you believe the council meetings in recent years have been unnecessarily acrimonious? If so, what specifically should residents expect from you to address the situation?
I will work with anyone to reach decisions that are in Red Banks best interest. The current divide among some council members has led to unnecessary disrespectful and rude behavior. This needs to stop.
What qualities will you prioritize in selecting a borough administrator?
Proven experience, all the necessary training and the leadership skills required to manage the day-to-day operations of the Borough.  Someone who knows how to collaborate and work with the mayor and council to get results.
Is Red Bank doing all it can to keep the municipal portion of the tax rate in check? If not, what should be done that is not being done?
I believe the present budget was a good one. I thought last year's was also good.  Angela Mirandi and Mike Ballard have done a good job running finance. I hope to continue and try my best to prevent an increase. With the need of a new DPW building and filling some vacant positions, it will be challenging.
Can Red Bank afford and manage to simultaneously take on the rehabilitation of the municipal public works yard and borough hall; the contamination cleanup at the former landfill; and the redesign of Marine Park? 
As I stated, it will be a challenge. We do not need to redesign Marine Park. What we need to do is simply plant some grass. Add back the tennis courts and maybe a couple pickle board courts. It should not cost 10 million dollars such as the redesign was estimated at. We will need to spend money on the DPW facilities as soon as possible. As it is now, we have some real liability issues if someone gets hurt. So I believe this must be addressed sooner rather than later.
Who should have the lead role in guiding large-scale capital projects?
This would be the Administrators responsibility along with the support of the borough engineer, the mayor and the town planner. 
Do you support the Kimley-Horn proposal for redesigning Marine Park, including the relocation of the parking lot to the former site of tennis courts?
Absolutely not. At this time, I support cleaning it up and putting back the tennis courts and maybe some pickle ball courts so residents can start to enjoy it once again. I don't believe this would cost nearly as much. 
Should the former landfill at the western end of Sunset Avenue be redeveloped as a park?
No, not currently. I am not convinced it is safe. And until I do, I would not support it.
Is the borough doing enough to encourage and safeguard walking and biking? What additional measures, if any, do you think are needed?
I believe we are a very walkable town. I am all for looking at ways to make it more bike friendly. But I am not sure where we could add bike lanes. Our streets or narrow to start with.
Should Broadwalk be an annually recurring feature? Should any changes be implemented?
I believe we need to look at it year to year and make changes as needed. While it is nice to have, we need to make sure we are not hurting the businesses that are not part of Broadwalk.
Do you support the effort to revise the 2021 cannabis zoning ordinance? Why or why not? 
I do support it. There are currently 17 applications for retail. That is just way too many. I want to start off slowly and if needed revise it later down the road.
Do you support the short-term rental ordinance adopted by the council in February? Why or why not?
I do. I would have preferred owner occupied however I don't believe anyone would be enforcing it.
Should the council rank the recommendations of the new Master Plan for action? If so, which recommendations would you put at the top of the list?
I don't think it is as easy as just taking bits and pieces and saying this is what we will prioritize. There is a lot in the master plan, and it serves as a guide only.
Do you favor a transit village designation for the area around the train station, as recommended in the 2023 Master Plan? Why or why not? 
We're talking about a lot more people living in a small space, which means more cars, more trash, more water usage, more stress on the infrastructure and maybe even a lot more kids in our schools.  I don't think we've yet been able to get the State to designate us as a transit village though we've applied a couple of times.  So I think we need to be really careful about how much we try to pack into a small area. 
What if anything should Red Bank's government do to create opportunities for new affordable housing?
First, we need to look at our present inventory. Some of these have not been updated since the early 60's. Also we can take a look at possibly raising the percent on new buildings.
Are there any reasons for Red Bank residents to be concerned about Tim Hogan serving as mayor in light of his role as president and chief executive officer of Riverview Medical Center? Why or why not?
No. Tim Hogan has been very successful at Riverview. He turned that small community hospital into one of the best in the state.  He knows how to work with all kinds of people.  He knows how to run a huge business, and manage huge budgets.  He's a proven success story. And with those skills I believe he can lead Red Bank to a better place. 
Are there any reasons for Red Bank residents to be concerned about Billy Portman serving as mayor? Why or why not?
It is nothing personal. I just don't feel Billy Portman has the skills to lead our town. Many of the recent council meetings have gone out of control, with people who don't live here talking and being disruptive taking up time and residents going at it with each other, and he just lets it happen. We need to have true leadership and I believe Tim Hogan can deliver that and do a much better job.
Please add anything you'd like here:
*****
ELECTION NOTES
• Find the Red Bank sample ballot here.
• Early, in-person voting will be available at borough hall (90 Monmouth Street) from Friday, May 5, through Sunday, May 7. The hours are 10 a.m. to 8 p.m. Friday and Saturday, and 10 a.m. to 6 p.m. Sunday. No other polling stations will be open for early, in-person voting.
• In-person, election day voting will take place at the polling stations shown below. Polls will be open from 6 a.m. to 8 p.m.
Note that in-person, election day voting for residents of the 1st and 8th districts will take place at borough hall (90 Monmouth Street).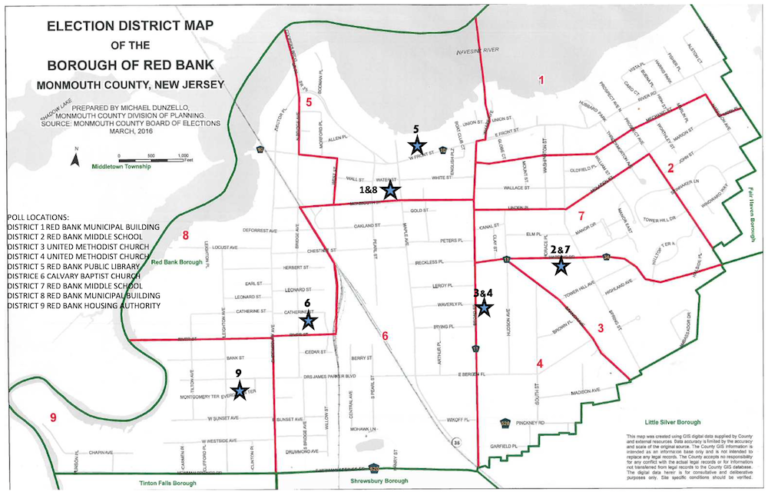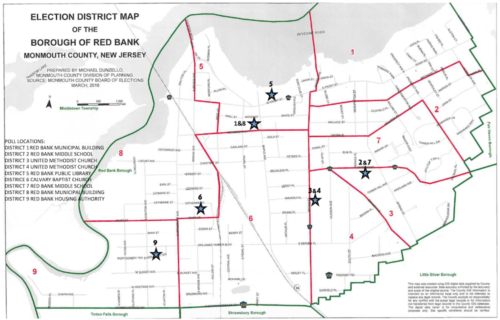 • Finally, here's a video on using Monmouth County's digital voting machines, which employ touchscreen technology familiar to users of smartphones and tablets:
If you value the news coverage provided by redbankgreen, please become a financial supporter for as little as $1 per month. Click here to set your own level of monthly or annual contribution.