Thirteen candidates for Red Bank council, and two for mayor, crowd the May 9 ballot. (Photos by John T. Ward. Click to enlarge.)
See UPDATE below
With a record 15 candidates to select for seven seats in the historic May 9 election, Red Bank voters may feel a bit like they're looking at the menu of a Jersey diner: overwhelmed.
So to help voters decide who they want to establish a new form of government July 1, redbankgreen invited all 13 council candidates and both mayoral contenders to offer information about themselves and their positions in written Q&As.
Video illustrates how to use Monmouth County's digital voting machines, which employ touchscreen technology familiar to users of smartphones and tablets. Below: Red Bank's voting district map.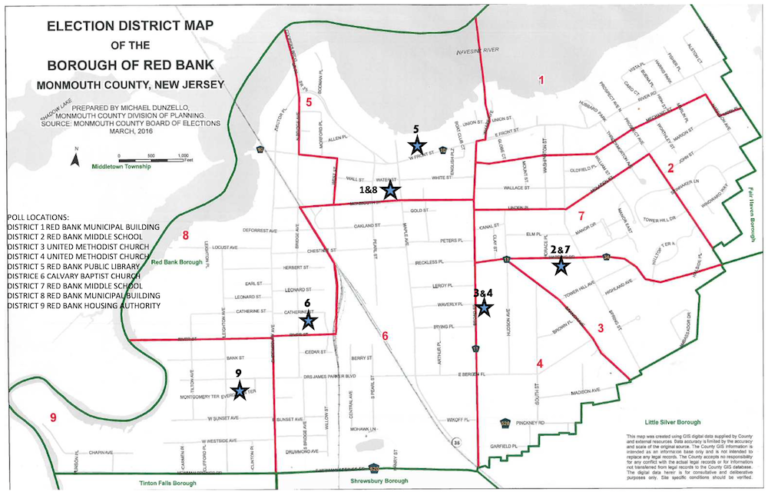 The Q&As – the same for all 15 – provide basic biographical info, as well as each candidate's views on major issues facing the town.
While hardly exhaustive, the questions are wide-ranging, and numerous. One candidate said it was "like taking a college exam."
See the full collection of Q&As, posted in randomized order, here. As of early Wednesday, two candidates had not responded; we'll add theirs if we get them. (UPDATE: Council candidate Erin Fleming submitted one Thursday; it has now been added to the rest.)
And here's some useful nuts-and-bolts info about voting:
• Find the Red Bank sample ballot here.
• Early, in-person voting will be available at borough hall (90 Monmouth Street) from Friday, May 5, through Sunday, May 7. The hours are 10 a.m. to 8 p.m. Friday and Saturday, and 10 a.m. to 6 p.m. Sunday. No other polling stations will be open for early, in-person voting.
• In-person, election day voting will take place at the polling stations shown below. Polls will be open from 6 a.m. to 8 p.m.
Note that in-person, election day voting for residents of the 1st and 8th districts will take place at borough hall (90 Monmouth Street).
• In case you missed it, check out the video of redbankgreen's "Faceoff Over Red Bank's Future," a two-hour candidates' forum held April 18 at the Red Bank Middle School.
If you value the news coverage provided by redbankgreen, please become a financial supporter for as little as $1 per month. Click here to set your own level of monthly or annual contribution.