Billy Portman, with mic, and the Red Bank's Ready slate celebrating victory at Triumph Brewing Company. (Photo by John T. Ward. Click to enlarge.)
By JOHN T. WARD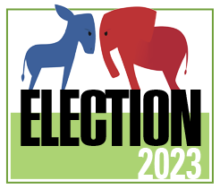 Incumbent mayor Billy Portman and his slate of council candidates sailed to victory in Red Bank's history-making election Tuesday.
Portman's "Red Bank's Ready" team met little resistance, crushing a lineup led by Riverview Medical Center President Tim Hogan, as well as a council bid by independent candidate Suzanne Viscomi.
Portman with well-wishers Tuesday night. Below, Kate Triggiano with son Otto and running mate Ben Forest. (Photos by John T. Ward. Click to enlarge.)
With all nine voting districts accounted for, as well as mail-in and early in-person votes, an unofficial tally by the Monmouth County Clerk showed Portman leading Hogan, 1,218 votes to 780.
That gave Portman nearly 61 percent of the 2,010 votes cast for mayor.
His six running mates – Kate Triggiano, Ben Forest, Nancy Facey-Blackwood, Laura Jannone, David Cassidy and Kristina Bonatakis – each captured more than 1,000 votes, while only Sean Murphy among Hogan's slatemates cracked 800, according to the county website.
Viscomi, seeking a council seat for the fourth time since 2018, tallied 665. Councilman Michael Ballard, whose mayoral dreams Portman hosed with a landslide victory in the 2022 Democratic primary, was the lowest vote-getter in the race, with 639.
"Ladies and gentlemen, I would like to introduce you to your new Red Bank council," Portman told a cheering crowd of supporters at Triumph Brewing Company, on Bridge Avenue. "Oh man, this feels so good."
Hogan's Red Bank Together, which gathered at a no-press event at a private home, did not concede.
"We look forward to the final vote count," the slate said in a statement emailed to redbankgreen.
Portman, a political novice who breezed into office unopposed just seven months ago, and other slate members credited Triggiano for having persevered as the only surviving member of a bloc that emerged when the all-Democratic council began to rupture nearly five years ago.
Triggiano racked up the most votes among the 13 council candidates, with 1,133. Portman called her "a tireless warrior for the community."
"When I first got involved, the need for change was so undeniable," Triggiano told the audience. "And I thought to myself, how are we ever going to get here? There's so much that needs to be changed, there's so much that needs to be done. The system is not lifting up the people and the representation that we deserve."
Triggiano, who wrested control of the local Democratic party from Councilman Ed Zipprich last summer, and Portman put together a slate of activists already deeply involved in the Charter Study, Master Plan rewrite, environmental issues and the volunteer fire department, among others, she said.
"We're finally here," she said. "Everybody up here's going to work together so beautifully… and the meetings are going to be different."
Though during the race Portman had painted Hogan's day job as "a massive conflict of interest" with  the mayoralty, he congratulated his opponent "on running a good campaign."
The borough's first-ever nonpartisan election, brought about by a Charter Study and voter referendum in 2022, also signals the end of Red Bank's 115 years under New Jersey's traditional "borough" form of government. On July 1, the winners of this election are to establish a new "council-manager" form of government, in which an unelected administrator will be hired to manage borough services.
Among other changes, the mayor, who presently only votes to break a council tie, will be co-equal with council members, able to vote on all matters.
The new mayor and council members get four-year terms, though to initiate staggered elections, four council members will be chosen by lottery at the reorganization session to serve two years.
Once seated, the council will have the option to restore elections to the first Tuesday in November, according to the Charter Study Commission report.
Here are the unofficial council vote tallies as of 11 p.m.:
Jacqueline Sturdivant
756
6.67%
Sean Murphy
812
7.17%
John Jackson
667
5.89%
Linda Hill
647
5.71%
Erin Fleming
688
6.07%
Michael Ballard
639
5.64%
Suzanne Viscomi
665
5.87%
Kate Triggiano
1,133
10.00%
Ben Forest
1,092
9.64%
Nancy Facey-Blackwood
1,083
9.56%
Laura Jannone
1,017
8.98%
David Cassidy
1,046
9.23%
Kristina Bonatakis
1,022
9.02%
Write-ins
64
0.56%
Votes cast
11,331
If you value the news coverage provided by redbankgreen, please become a financial supporter for as little as $1 per month. Click here to set your own level of monthly or annual contribution.