On the ballot May 9: Red Bank council candidate Kristina Bonatakis. (Photo by John T. Ward. Click to enlarge.)
Red Bank voters will have 13 candidates to choose from when they elect six council members May 9.
Here's what candidate Kristina Bonatakis said in response to a questionnaire sent to all by redbankgreen.
Name and age: Kristina Bonatakis, 37
Street address: 122 Riverside Avenue
Where did you grow up? We moved a bit, but my "home town" is Longmeadow, Massachusetts.
Where did you go to high school? Longmeadow High School, Go Lancers!
If you hold college or graduate degrees, where did you earn them, and in what areas of study? I hold a BA in Economics from Rutgers New Brunswick and graduated Magna Cum Laude.
Have you served in the military? If so, which branch and when? I have not served in the military.
How long have you been a resident of Red Bank? I've lived in Red Bank since 2010.
Do you own your home? Like nearly half of Red Bankers, I rent.
What do you do for a living, and who is your employer?
I'm Chief of Staff at HR Acuity, a software company based in Florham Park, NJ.
What, if anything, about your work makes you particularly suited to serve as an elected official?
In my work, I sit on our Executive Leadership team and jump in anywhere across our business to help solve complex issues of people, process, and strategy. I'm a systems thinker with the ability to evaluate large amounts of information and find agreement among divergent viewpoints. It's made me a great listener and communicator. These skills have been essential in my service to our community; achieving big goals through collaboration, such as the recently adopted Master Plan. I'm excited to further leverage my skills and knowledge as a member of Council to create a lasting, positive impact on Red Bank's future.
Please tell us about your community involvement efforts, if any.
While working downtown, I served as the Treasurer of the Red Bank Business Alliance and helped the group secure its non-profit designation. We held two public forums seeking resident input on parking, bringing residents and businesses together to hear all sides of an issue with the potential to reshape our town.
I also began working with the Green Team in 2017 and the Environmental Commission (EC) shortly thereafter. On the EC, we evaluate local environmental policy, seek grants for valuable projects, undertake sustainability initiatives, and promote education. In 2020, I also joined the Planning Board as EC liaison. I was a member of the steering committee for the yearlong Master Plan process which distilled months of stakeholder input into the final adopted Plan.
Your party affiliation, if any: I'm a registered Democrat.
Is party affiliation important to you? What does it mean to you to be a member of your party?
My values – care for the environment, social equity, women's rights – align with the Democratic party. I support Democratic candidates for higher office and also support nonpartisan local elections.
Why are you running for office?
I believe that this is a pivotal moment for the town. It felt like the right time to put my skills and knowledge to work to usher in a new positive era in Red Bank; to move us away from the poor outcomes of 'business as usual'. I also want to see through the best recommendations in the new Master Plan especially around increased walkability and bikeability. Momentum for positive change must come from our governing body, so running became the obvious choice – especially with the Red Bank's Ready team.
What are the most pressing issues facing the town, and what specific initiatives can voters expect from you if you are elected?
First and foremost, we must source and hire a skilled business administrator to effectively run the day to day operations of the town. This individual will be the council's primary partner for execution of our key priorities. To me, those are improved borough facilities, the realization of green space improvements, and increased transparency of the governing body.
Do you expect the change to a council-manager form of government starting July 1 to improve the governance of Red Bank over the existing borough form? Please explain.
Yes. Thanks to the work of the Charter Study Commission, residents were able to see the value of adopting the modern council-manager form. This form better delineates the roles of council and business administrator, avoiding the dysfunction of opaque committees and counterproductive meddling by councilmembers.
Do you believe the council meetings in recent years have been unnecessarily acrimonious? If so, what specifically should residents expect from you to address the situation?
We need leaders who respect facts, make reasoned arguments, and are respectful of each other both on and off the dais. It's not magic. I'm already addressing the situation by running with a team that holds themselves to this level of professional conduct and collaborative spirit. Of course I will continue to reflect these values while in office.
What qualities will you prioritize in selecting a borough administrator?
Experience is important, but it is not enough. This individual must be a proven, transformative leader with excellent organization and communication skills.
Is Red Bank doing all it can to keep the municipal portion of the tax rate in check? If not, what should be done that is not being done?
It's always worth evaluating where we can be more efficient, even seeking out novel ways to fund projects and services – partnerships, grants, etc. However, I will never favor a budget with cuts that threaten public health and safety as we saw recently.
Can Red Bank afford and manage to simultaneously take on the rehabilitation of the municipal public works yard and borough hall; the contamination cleanup at the former landfill; and the redesign of Marine Park?
Yes. We need a talented business administrator and a leadership team with vision to see through our most important projects.
Who should have the lead role in guiding large-scale capital projects?
The business administrator should have the lead role, with council setting priorities and advancing a capital plan.
Do you support the Kimley-Horn proposal for redesigning Marine Park, including the relocation of the parking lot to the former site of tennis courts?
Yes, I attended the public sessions led by Kimley-Horn and heard the varied input they received from residents. A parking lot is appropriate for the area prone to flooding, and will free up more prime waterfront space for events and recreation. The design is also favorable from a stormwater runoff perspective. Tennis and pickleball folks – I see you. Let's find the right time and place.
Should the former landfill at the western end of Sunset Avenue be redeveloped as a park?
The site must be remediated, period. A small area plan for Sunset was developed as part of the Master Plan, and I encourage folks to read it. I've heard from west side residents who look forward to additional recreational space and we have options on the intensity of use there.
Is the borough doing enough to encourage and safeguard walking and biking? What additional measures, if any, do you think are needed?
I think there needs to be more council advocacy for walkability, bikeability, and Complete Streets to move us in the right direction. That means advancing the recommendations in the Master Plan, and asserting the needs of our community before the county and state institutions who control many of our roadways.
Should Broadwalk be an annually recurring feature? Should any changes be implemented?
Yes, Broadwalk has become an overwhelmingly beloved institution and something that makes Red Bank special. I'm excited to see the impact of the new initiatives by RiverCenter this year and the path for continuous improvement.
Do you support the effort to revise the 2021 cannabis zoning ordinance? Why or why not?
I support revising the ordinance to add clarity for residents and prospective business owners alike. However, I believe the amendments promoted by the council majority are inequitable, unclear, and poorly reasoned. The Planning Board had a healthy discussion about the land use amendment, and we instead recommended a clearly delineated cannabis overlay zone.
Do you support the short-term rental ordinance adopted by the council in February? Why or why not?
Members of council majority must be able able to distinguish between an isolated enforcement issue and a systemic problem warranting restrictions on homeowner rights. We never experienced the latter in Red Bank. The outcome is a loss for owners using short-term rental income to stay in their homes, and to the responsible renters who generally enriched our community.
Should the council rank the recommendations of the new Master Plan for action? If so, which recommendations would you put at the top of the list?
The Master Plan is a mix of passive guidance and ideas to develop and execute. That being the case, it's difficult to "rank" the recommendations in a linear way and doing so ignores how the best opportunities may actually arise over time. That being said, the standout recommendation for me is to move us forward on Complete Streets by developing a comprehensive Circulation Element.
Do you favor a transit village designation for the area around the train station, as recommended in the 2023 Master Plan? Why or why not?
Yes. Transit-oriented development promotes sustainability, public health, and vibrant communities. Moreover, a formal Transit Village designation means joining towns like Asbury Park, Long Branch, Belmar, and Metuchen to increase our priority for funding, grants, and technical assistance for our placemaking efforts.
What if anything should Red Bank's government do to create opportunities for new, affordable housing?
In addition to requiring affordable units in any new development, our current stock of affordable housing is ripe for rehabilitation and expansion. We should explore public-private partnerships to help us meet or exceed our affordable housing requirements.
Are there any reasons for Red Bank residents to be concerned about Tim Hogan serving as mayor in light of his role as president and chief executive officer of Riverview Medical Center? Why or why not?
Yes. Riverview is such a large player in town that there would be times when the conflict of interest exists even indirectly. Would Tim recuse himself in all of those cases? The Master Plan includes guidance on how the town should address hospital encroachment on residential areas that includes rezoning. How would that move forward in an unbiased way with Tim as mayor? And on the proactive side, could we even partner with the hospital to the extent that we otherwise could; for example to promote public waterfront access? Bottom line – we need a mayor whose interests lie with their fellow residents, who is accessible, and can be a part of all our important conversations to come.
Are there any reasons for Red Bank residents to be concerned about Billy Portman serving as mayor? Why or why not?
They should be concerned if they don't trust people who are both fun and focused! I've seen Billy in action and I can't imagine a better mayor for Red Bank.
Please add anything you'd like here:
*****
ELECTION NOTES
• Find the Red Bank sample ballot here.
• Early, in-person voting will be available at borough hall (90 Monmouth Street) from Friday, May 5, through Sunday, May 7. The hours are 10 a.m. to 8 p.m. Friday and Saturday, and 10 a.m. to 6 p.m. Sunday. No other polling stations will be open for early, in-person voting.
• In-person, election day voting will take place at the polling stations shown below. Polls will be open from 6 a.m. to 8 p.m.
Note that in-person, election day voting for residents of the 1st and 8th districts will take place at borough hall (90 Monmouth Street).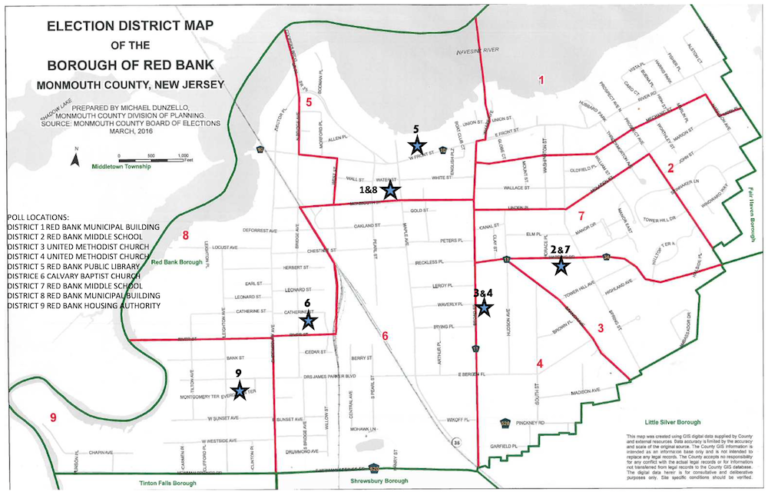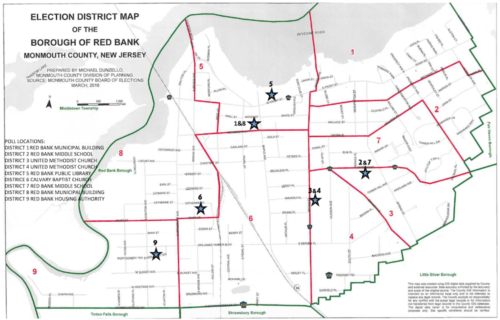 • Finally, here's a video on using Monmouth County's digital voting machines, which employ touchscreen technology familiar to users of smartphones and tablets:
If you value the news coverage provided by redbankgreen, please become a financial supporter for as little as $1 per month. Click here to set your own level of monthly or annual contribution.