On the ballot May 9: Red Bank mayoral candidate Billy Portman. (Photo by John T. Ward. Click to enlarge.)
Red Bank voters will have two candidates to choose from when they elect a new mayor May 9.
Here's what candidate Billy Portman said in response to a questionnaire sent to all by redbankgreen.
Name and age: William Portman
Street address: 90 John St
Where did you grow up? Ocean Township
Where did you go to high school? Ocean Township High School
If you hold college or graduate degrees, where did you earn them, and in what areas of study? I have a B. A. in Literature from the George Washington University
Have you served in the military? If so, which branch and when? No
How long have you been a resident of Red Bank? 8 years
Do you own your home? yes
What do you do for a living, and who is your employer?  General Contractor, self-employed
What, if anything, about your work makes you particularly suited to serve as an elected official?
My job is pretty much problem solving.  Issues and problems always arise on the job site, it is my job to find a solution.
Please tell us about your community involvement efforts, if any. 
I am currently serving as Mayor. I co-founded Red Bank Porchfest, which will be returning to Red Bank in October
Your party affiliation, if any: Democrat
Is party affiliation important to you? What does it mean to you to be a member of your party? 
On a state and National level, my party affiliation is important to me. I share a set of values with the Democratic party that feels very different to me than the values espoused by the current Republican party.  On a local level, party affiliation becomes less important.  
Why are you running for office?
I want to be an asset to the borough. I feel that Red Bank is right on the cusp of huge changes, and myself and my running mates are a perfectly suited to usher us into this new era.
What are the most pressing issues facing the town, and what specific initiatives can voters expect from you if you are elected? 
the first priority has to be making a smooth transition to our new form of government. In addition to hiring a new Administrator, we will have to make updates to our administrative code.  this will give us the framework to legislate effectively.
I would also like to address quality of life issues, specifically trash. I will be looking to immediately hire additional workers at the DPW, with a focus on cleaning up our streets.  
Do you expect the change to a council-manager form of government starting July 1 to improve the governance of Red Bank over the existing borough form? Please explain.
Absolutely.  the 2018 management enhancement review highlighted a council meddling in day to day operations of the borough.  By having the council focus on legislating, and letting a Manager handle the day to day operations,  we will be operating much more efficiently.
Do you believe the council meetings in recent years have been unnecessarily acrimonious? If so, what specifically should residents expect from you to address the situation? 
Obviously, Red Bank politics have been a spectacle over the last few years. Great for the press, not so great for the residents.  For my part, I have been doing my best to let residents know that they are being heard, that I am available, and that I will do all I can to address their concerns.  A change in council personnel will go a long way to changing our reputation, which is why I am running with the people on my slate.
What qualities will you prioritize in selecting a borough administrator?
I would love to hire a BA who has experience operating in the Council-Manager form of government.  I am looking for someone who is effective, a clear communicator, transparent, and focused on the job at hand.
Is Red Bank doing all it can to keep the municipal portion of the tax rate in check? If not, what should be done that is not being done?
A majority of our property taxes are already allotted to pay for our schools, as well as the salaries, insurance, and pensions of our staff.  The Broadwalk has helped to turn Red Bank into a destination, which has dramatically increased our parking revenue. finding additional revenue streams is why I support the opening of cannabis dispensaries in town.  And finally, our non-profits like the hospital are not paying their fair share of taxes.  
Can Red Bank afford and manage to simultaneously take on the rehabilitation of the municipal public works yard and borough hall; the contamination cleanup at the former landfill; and the redesign of Marine Park?
We will obviously need to receive financial aid at the state and federal level to tackle all of these issues.  And we cannot undertake them all at once.  But I believe we have the resources to handle all of the improvements we need to make.
Who should have the lead role in guiding large-scale capital projects?
The Business administrator
Do you support the Kimley-Horn proposal for redesigning Marine Park, including the relocation of the parking lot to the former site of tennis courts?
I do.  the council approved the Kimley-Horn proposal several years ago, and we should implement it.
Should the former landfill at the western end of Sunset Avenue be redeveloped as a park?
Our first step is to clean up and cap the landfill.  As for whether or not it should be redeveloped, I think that should be left to the voters to decide with a referendum vote.
Is the borough doing enough to encourage and safeguard walking and biking? What additional measures, if any, do you think are needed?
We are not.  My running mate, Nancy Facey-Blackwood, has re-written the borough's complete streets plan, and we should begin to implement elements immediately.  It is tricky with a combination of state, county, and local roads running through town, but we need to coordinate with all agencies to make these changes.  I spoke with former Fairhaven Mayor Lucarelli not too long ago about this, and he advised me on how to get bike lanes on County roads.
Should Broadwalk be an annually recurring feature? Should any changes be implemented? 
Yes. Period. Full stop.  Changes will occur naturally as this amazing attraction evolves.
Do you support the effort to revise the 2021 cannabis zoning ordinance? Why or why not?
While I understand that the planning board was seeking some clarity from the council, the council threw out a functioning cannabis ordinance and is trying to pass a full 11th hour rewrite.  This is partially why the planning board unanimously rejected the revised ordinance submitted to them.  Any revisions should be limited in scope.
Do you support the short-term rental ordinance adopted by the council in February? Why or why not? I do not. 
I had a simple suggestion: Allow owner-occupied STRs anywhere in the borough.  There are single mothers and seniors who were able to stay in their homes because they were renting a room to travel nurses and actors at the Two River Theater.  You cannot say on one hand that you want to address the issue of affordability for residents, and on the other hand remove one of the tools that residents have to make Red Bank more affordable.
Should the council rank the recommendations of the new Master Plan for action? If so, which recommendations would you put at the top of the list?
We can certainly rank the recommendations as an exercise, but there are many other factors that will decide the order of when things get completed.  For example, the BA and I applied for Federal funding for both our lead pipe replacement and for Marine Park.  If we are given money to restore Marine Park, that will move up the list (although it is near the top already). For me, top of the list has to be rebuilding the DPW.  It is becoming untenable.
Do you favor a transit village designation for the area around the train station, as recommended in the 2023 Master Plan? Why or why not?
I do.  Receiving this designation will enable us to receive Federal funding.  It will also encourage development that is not dependent on cars.  Building around the train station encourages residents to use public transportation, and if done correctly, will make that area safer for bikes and pedestrians.
What if anything should Red Bank's government do to create opportunities for new, affordable housing?
The Council has taken the first step by approving funding for the housing authority to begin the process of improving our affordable housing properties, which are quite old.  I think those properties are under-utilized, and I hope that by redesigning the properties, we will be able to increase dramatically our number of  affordable housing units.
Are there any reasons for Red Bank residents to be concerned about Tim Hogan serving as mayor in light of his role as president and chief executive officer of Riverview Medical Center? Why or why not?
The conflict of interest from Tim Hogan is so glaring that it is the number one issue people bring up to me when I have been door-knocking.  This is not a theoretical conflict.  Red Bank and Riverview have been in litigation for 7 years over the hospital's reluctance to pay its full share of property taxes.  This means that for 7 years, Tim Hogan has been fighting for the interests of the hospital over the interests of the residents of Red Bank.  They have knocked down Historical buildings, encroached on the Historic residential district, and gobbled up as many properties as they can, which dramatically lowers the amount of property taxes the borough collects. So, yeah, I think there are plenty of reasons for residents to be concerned.  Alarmed may be a better word.
Are there any reasons for Red Bank residents to be concerned about Billy Portman serving as mayor? Why or why not?
Not that I can think of.  I hear he is a nice guy.  Accessible, too.
Please add anything you'd like here:
*****
ELECTION NOTES
• Find the Red Bank sample ballot here.
• Early, in-person voting will be available at borough hall (90 Monmouth Street) from Friday, May 5, through Sunday, May 7. The hours are 10 a.m. to 8 p.m. Friday and Saturday, and 10 a.m. to 6 p.m. Sunday. No other polling stations will be open for early, in-person voting.
• In-person, election day voting will take place at the polling stations shown below. Polls will be open from 6 a.m. to 8 p.m.
Note that in-person, election day voting for residents of the 1st and 8th districts will take place at borough hall (90 Monmouth Street).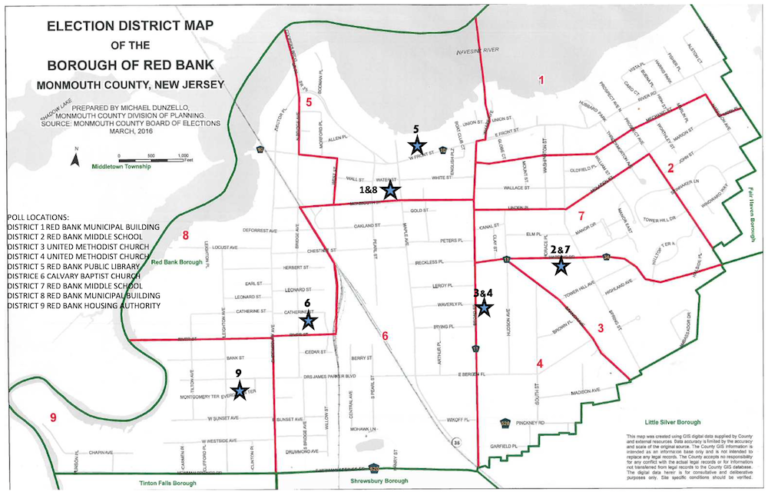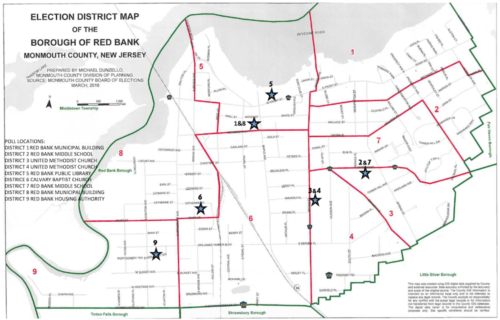 • Finally, here's a video on using Monmouth County's digital voting machines, which employ touchscreen technology familiar to users of smartphones and tablets:
If you value the news coverage provided by redbankgreen, please become a financial supporter for as little as $1 per month. Click here to set your own level of monthly or annual contribution.