Voting machines at borough hall in advance of last November's election. (Photo by John T. Ward. Click to enlarge.)
By JOHN T. WARD
Red Bank voters would be able to cast ballots in-person over the weekend prior to the upcoming special election under an ordinance introduced last week.
The borough council signaled at its February 8 meeting that it will authorize an additional $21,000 to enable early voting in the historic election.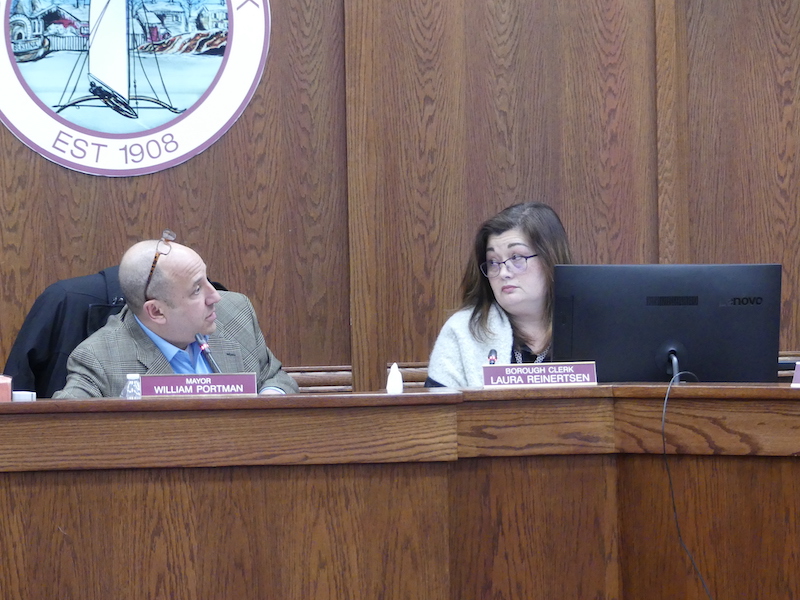 Mayor Billy Portman and Clerk Laura Reinertsen during the council discussion of the May 9 election. (Photo by John T. Ward. Click to enlarge.)
The ordinance would authorize three days of early, in-person ballot-casting in advance of the May 9 special election.
A mayor and all six council members are to be chosen in accordance with a November referendum that called for changing the town's form of governance and initiating nonpartisan elections. Under state law, such a change also pins future elections for May, unless changed by the council.
In addition to mail-in, drop-off and in-person voting on election day, the early-voting option for this year's election would enable voters to cast ballots in-person at borough hall from Friday, May 5, through Sunday, May 7. No other polling stations would be open during that period.
On top of non-early-voting expenses of $25,249.50, the borough would be required to pay $20,794.80 for the three days of early voting, Clerk Laura Reinertsen told the council last week.
"So you're looking at a total of $46,044.30," she said, adding that the early voting cost could be reduced if Ocean Township also opts for early voting, allowing for some shared expenses.
In the event that an insufficient number of candidates fail to win a majority of votes, a runoff election would be held June 13, as detailed in the 2022 final report of the Charter Study Commission.
Councilmember John Jackson said a runoff scenario was "very possible" this year, and asked Reinertsen if a second round of early voting would double the expense.
Reinertsen said there would not be enough time for early, in-person voting to be conducted for a run-off. A total budget item of about $65,000 would cover the costs of both the May 9 and June 13 voting, if the second is required, Reinertsen said.
Mayor Billy Portman said the costs would be "one-off" if the new government that's seated July 1 votes to return to a November schedule for general elections, starting in 2025.
In addition, because the referendum called for staggered terms, future elections will be held every two years, rather than annually, reducing the borough's expenses, he said.
"I'm in favor of early voting," he said. "I want as many people to be able to vote as possible. That's the whole point of it."
"We don't always talk about the cost of democracy," said Councilmember Kate Triggiano. "But I believe it's the right thing to do, to offer early voting to people. I believe it's the democratic thing to do."
The vote to introduce the ordinance was unanimous. Final adoption is expected February 22.
If you value the news coverage provided by redbankgreen, please become a financial supporter for as little as $1 per month. Click here to set your own level of monthly or annual contribution.