Tom Hintelmann addresses attendees at the event in his late father's honor. (Photo by John T. Ward. Click to enlarge.)
See note below
By JOHN T. WARD
The lobby at Red Bank's long-closed Senior Center now has a name, in honor of the late Thomas E. Hintelmann, the borough's longest-serving council member.
Several dozen attendees crowded into the foyer of the Shrewsbury Avenue facility Tuesday evening to memorialize Hintelmann, who served on the borough council from 1975 through 2004.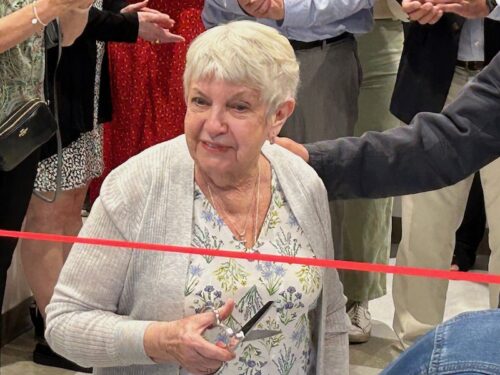 Maureen Hintelmann wielded the scissors at the event. (Photo by John T. Ward. Click to enlarge.)
Hintelmann, who taught history at Red Bank Catholic High School for four decades, died in December.
"I always called Tommy the dean of the council," former mayor Ed McKenna told the gathering. "He was our moral compass."
"Tom would have loved this," his widow, Maureen Hintelmann, told the crowd. Citing a lyric from an Irish tune, she said: "the town he loved so well – this was it for Tom."
"As sad as his passing was, I think there was a satisfaction that he didn't have to go out of town to pass somewhere else," Tom Hintelmann said of his father. "He got to pass at Riverview, the same hospital he was born in."
"I don't think you guys could have given him a finer tribute than this," he continued.
Former councilwoman Sharon Lee, who succeeded Hintelmann on the governing body, told redbankgreen he "set a standard of consistency and dedication to the town.
"He did it in his teaching work, he did it in his borough work, he did it in his life, and everybody knew it," she said. He was also a store of knowledge about the town "and he shared," Lee said.
The center has been closed since it was damaged by a fire suppression system rupture during an extended freeze in January, 2019. The council adopted a $1.94 million repair plan for the facility in February, 2022.
The reopening of the center is "in the home stretch," pending the arrival and installation of several small but crucial "punch list" items, such as door locks, interim borough Administrator Darren McConnell told redbankgreen. He said he hoped seniors would be back in the building by early May.
Councilman Ed Zipprich, who serves as liaison to the center, told redbankgreen the dedication ceremony was scheduled in advance of a reopening because "Mrs. Hintelmann and her family members were available" Tuesday.
Among those in attendance were Mayor Billy Portman, five of the six current council members, and several contenders for seats in the May 9 election – including Hintelmann's son-in-law, Sean Murphy.
Note: As seen in the top photo, Hintelmann's last name was misspelled in the lobby display. "I believe it's been corrected," McConnell said Wednesday.
If you value the news coverage provided by redbankgreen, please become a paying member. Click here for details about our new, free newsletter and membership information.