Protesters march down Broad Street, above, and observe a moment of silence on Newman Springs Road, below. (Photos by John T. Ward. Click to enlarge)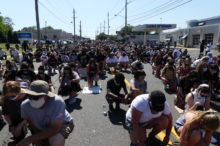 By JOHN T. WARD
Angry but peaceful, hundreds of protesters marched through Red Bank Tuesday afternoon.
With temperatures nearing 90 degrees, a "Justice for George Floyd" march and rally at Count Basie Fields coincided with the Houston funeral of the man killed by Minneapolis police May 25.
Check out redbankgreen's photos from the event below.