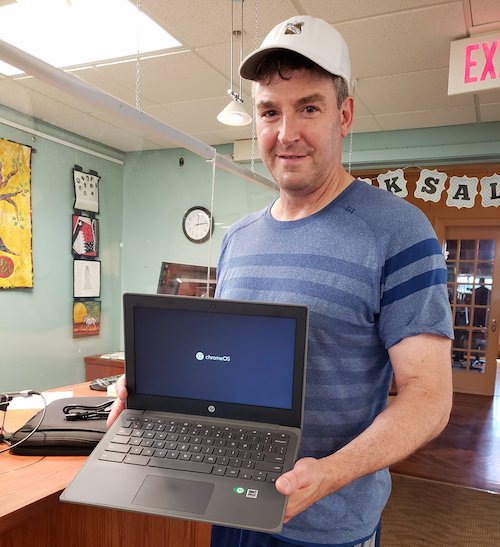 The Red Bank Public Library has added Chromebooks to the information technology available for borrowing by patrons.
Scenes from the recent installation of enhanced wifi at the library. (Click to enlarge.)
Press release from the Red Bank Public Library
The Red Bank Public Library has been selected as one of 27 libraries and was recently awarded $10,000 of grant funding by The NJ State Library to
support the CARES ACT Mini-Grant for Public Libraries.
The grant award supplemented the cost of an improved WiFi system that is now strong enough to provide service to anyone on the library grounds, inside or outside the building.
A screengrab of a "popularity poll" page in the 1956 Red Bank High School yearbook. And hey, do you recognize the graduate shown below? (Click to enlarge)
By JOHN T. WARD
History lovers and those prone to the siren song of nostalgia: prepare to fall into a rabbit hole.
The Red Bank Public Library has digitized the yearbooks of the former Red Bank High School and its successor, Red Bank Regional High, from a broad swath of the 20th century.
Forty editions of the annual known as the Round Table and, later, the Log, chronicling changes in hairstyles, fashions and media from 1922 to 1980, can now be downloaded, paged through and word-searched via the Internet, minus the musty aroma.