Body cameras could be fully deployed by September, says Chief Darren McConnell. (2016 photo by John T. Ward. Click to enlarge)
By JOHN T. WARD
As they will across New Jersey, police-worn body cams will soon be the norm in Red Bank, officials said.
But state funding for the devices and related data storage will only cover about a third of the cost, said police chief and acting borough administrator Darren McConnell.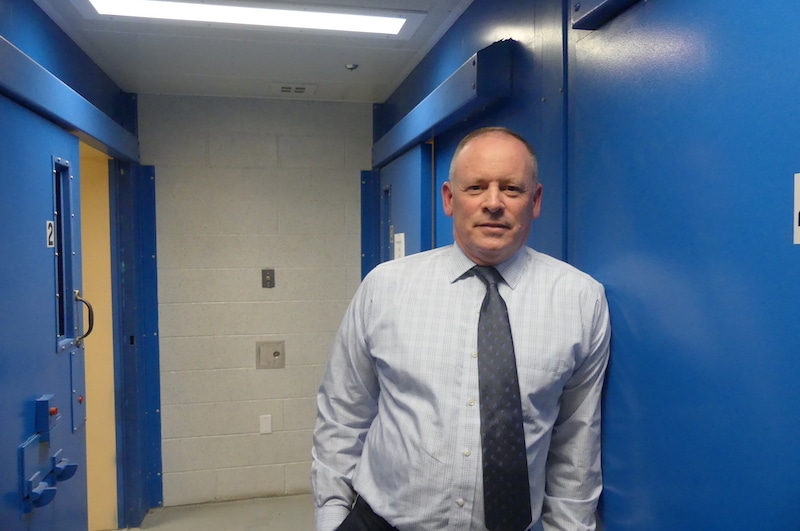 Chief Darren McConnell in 2020. (Photo by John T. Ward. Click to enlarge)
The program, mandated by state law and partially paid for by state funding, effectively ends a holdout by McConnell, who had previously balked at the cost of the devices and the perceived need in his department.
Though the RBPD won a grant from Monmouth County toward the purchase body-worn cameras in 2015, McConnell declined the funds over concerns about data storage costs. He noted at the time that rapidly improving technology was driving prices down.
He also saw the need for the cameras in Red Bank as less urgent than in other places because of relatively small number of internal affairs cases resulting from the nearly 30,000 yearly calls for service and traffic stops, he said at the time.
"I think the perception [of widespread abuses by police] is not the reality," McConnell said. "We certainly haven't seen any increase in complaints against our officers."
But last November, in the wake of numerous caught-on-video abuses by police across the United States, including the murder of George Floyd in Minneapolis six months earlier, Governor Phil Murphy signed a law mandating the use of cameras by all "uniformed patrol officers" effective June 1 of this year.
Last week, in response to a question from resident Alan Hill during the council's semimonthly meeting, McConnell acknowledged the tide had turned.
"It wasn't necessarily an investment I was ready to make, based on our historical data of complaints against police officers," McConnell said. "But all of that is essentially null and void at this point, as they're statutorily required [to be worn] by all patrol-function officers in the state of New Jersey."
Though citizen complaints claiming excessive "use-of-force" have remained low in the borough, and none have been substantiated in recent years, abuses and disputed interactions "can happen anywhere," McConnell said.
But the borough, like many of its counterparts across the state, would be unable to meet the June 1 deadline for full implementation, because vendors simply could not fulfill the statewide demand in time, he said last week.
Meantime, after obtaining price quotes from multiple vendors, the borough administration has "settled on a vendor we're comfortable with," McConnell said.
He declined to identify the vendor "until we have a signed agreement." But the total cost of 40 cameras and related data storage costs will be nearly $250,000, he told redbankgreen Thursday.
Under a reimbursement program Murphy and Attorney General Gurbir Grewal announced Tuesday, Red Bank is to receive $81,520 from $58 million allocated for 487 law enforcement agencies statewide.
Because it's a reimbursement, the borough will first have to budget for a capital outlay, but was holding off on doing so until it received the commitment from Trenton on the amount, McConnell said.
McConnell said he could not be specific as to a full-implementation date for the video system. "It could be September, but the entire police department will be equipped with them shortly," he said.
Mayor Pasquale Menna, an attorney who has worked as a municipal prosecutor for most of the past 35 years, said the camera footage can be "so incredibly helpful" for officers and civilians alike.
He said he often advises pro-se defendants who want to challenge charges to first obtain the video footage before going to trial.
"People will often call back and say, 'thank you for that suggestion – I got the disc, took a look at it and, yeah, that was me.' Or maybe, 'that wasn't me.' So it's very helpful," he said. "I believe in it very much."
Last week, Grewal expanded the camera-wearing mandate to include SWAT teams, proactive enforcement groups, canine units and officers who have "regular interaction with the public."