The owner of an Airbnb-listed house on Oakland Street continued his opposition to the ordinance. (Photo by John T. Ward. Click to enlarge.)
By JOHN T. WARD
Red Bank's council adopted controversial law restricting short-term, Airbnb-style residential rentals Wednesday night.
The action followed complaints by residents and Mayor Billy Portman that, months into the issue, the council still was not "listening" to the public.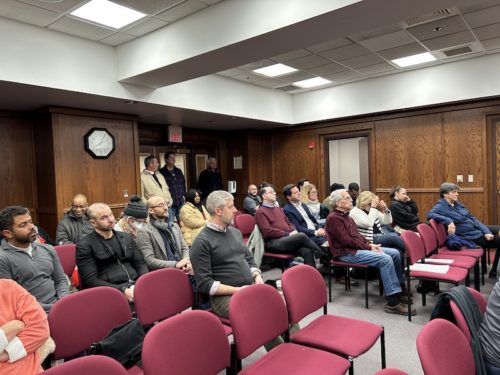 The audience at Wednesday's council session. (Photo by John T. Ward. Click to enlarge.)
The ordinance regulates short-term rentals, such as those offered via Airbnb, allowing them in all zones except strictly residential zones. Even owner-occupants in those zones would not be permitted to offer the rentals, though they would be allowed to do so in mixed-use zones.
The debate included echoes of previous hearings on the ordinance in recent months.
West Front Street resident Michael Ghegan said his Airbnb was "the only thing that kept me from losing my home" during the COVID-19 pandemic.
"The facts are that no one can rent my property without me vetting them completely," and "the point of Airbnb is to build a positive review structure, otherwise you can't use my house as a guest."
"It would be a tragedy for us to lose this opportunity to give people a chance to come into town," he said.
Representatives of the New Jersey and Monmouth County Realtors organizations argued that by enacting the law, the town would be setting itself up for a possible lawsuit based on unequal treatment of homeowners, depending solely upon the zones in which they live.
Bryan Hutchinson, CEO of Monmouth Ocean Regional Realtors, a professional association, said the IRS allows homeowners to avoid reporting 14 days worth of revenue per year from renting as income.
"Short-term rentals, in many cases, provide people the opportunity to pay their property tax, to pay their insurance, to provide for the upkeep on their houses to keep them from becoming slums and falling apart," he said.
Supporters, however, continued to argue that law would help ensure they don't end up living next door to houses serving a continual stream of "transients."
Mary Ellen Mess, of Hudson Avenue, said her research found that "more than half" the homes now offered as short-term rentals are not owned by Red Bank residents, and "many of them own multiple properties."
"Yes, this ordinance is not perfect," she said, "but it sends a message to other people who are looking to come in here and speculate on real estate."
Portman referred to a pledge by Councilmember Michael Ballard, at a December council meeting, that a workshop session would be held on the topic, "and that just never happened."
"I feel our job is to listen to residents," he said, "and I don't think we as a body listened to the residents."
Ballard disagreed, saying that residents had offered input "multiple times" as the proposed law was tabled twice. "To say that we did not listen to the residents is just not true," he said.
Ballard also defended the ordinance, which he initiated last summer. He read from a United Nations report deeming housing a human right, and said the ordinance was designed to prevent "financial speculation from pushing housing out of reach" for people who might otherwise have more long-term rentals to choose from.
But Anthony Scannell, a Wallace Street resident who maintains a short-term rental, agreed with Portman that a "collaborative conversation never happened."
"Forget the matter at hand. The fact that you are not listening to us is paramount to what this whole problem is," he said. "It's frustrating, and it's sending turmoil down every street in Red Bank."
Councilmember Kate Triggiano, long on the outs with the five-member majority led by Councilmember Ed Zipprich, cast the lone "no" vote.
Earlier in the meeting, Ballard had asked that public comment and discussion of the matter be moved to the end of the long agenda. But Portman declined. "I'd like to let them have their say so they can get out of here ," he said, adding, "the longer they wait, they'll turn on you."
"I think that boat has sailed," Ballard said with a laugh.
If you value the news coverage provided by redbankgreen, please become a financial supporter for as little as $1 per month. Click here to set your own level of monthly or annual contribution.