Mayoral candidate Tim Hogan, seen here in 2018. (Photo by John T. Ward. Click to enlarge.)
By JOHN T. WARD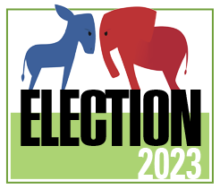 Riverview Medical Center president Tim Hogan says his day job would not present a conflict of interest should he succeed in his bid to become Red Bank's mayor.
Also in borough politics: watchdog Sue Viscomi has announced another run for council in the May 9 special election.
Map shows Hackensack Meridian Health's Red Bank holdings as of February, 2021. Below Sue Viscomi in 2021. (Photo by John T. Ward. Click to enlarge.)
Hogan, of Hudson Avenue, has teamed up with three incumbent council Democrats on a seven-candidate slate, dubbed "Red Bank Together," vying to form Red Bank's new government this summer.
If elected, his as role as hospital president and chief executive would not present a conflict of interest, Hogan said in a statement issued last Thursday.
"Let's be clear. I am not running for mayor to preserve or advance the agenda of RMC," Hogan wrote. "I am running for Mayor to preserve and advance the interests and serve the needs of the residents of Red Bank."
He also says the hospital has "no plans" to expand its current footprint.
"As a resident, and if elected you future Mayor, please know that I fully support and pledge to protect our Historic District," the statement said. "I can further assure you that, at this point in time, RMC has no plans to expand its current footprint. None."
"If future circumstances suggest change," Riverview will go through the approval process for development proposals, and he would recuse himself "from those discussions," Hogan said.
Here's the full statement: Tim Hogan letter 022323
As previously reported by redbankgreen, Riverview, part of the nonprofit Hackensack Meridian Health chain, went on a buying binge in recent years, gobbling up properties in the vicinity of the East Front Street healthcare facility.
The hospital is the borough's largest single employer.
On the Red Bank Together slate with Hogan are council incumbents Michael Ballard, Jacqueline Sturdivant and John Jackson, along with Sean Murphy, Linda Hill and Erin Fleming.
So far, one other slate has been announced: "Red Bank's Ready," consisting of Mayor Billy Portman; councilmember and Democratic party Chairperson Kate Triggiano; Ben Forest, Kristina Bonatakis, Nancy Facey-Blackwood, David Cassidy and Laura Jannone.
• Also running, for the fifth time, is Sue Viscomi, of Cedar Street.
A member of the Red Bank board of education, Viscomi said in a statement issued Tuesday that she is "the only certified independent candidate on the ballot running without a slate or group."
"There are hard decisions to be made between needs and wants; this is a pivotal time in Red Bank to elect a council that will represent the entire town and work together," Viscomi said in the announcement. "My experiences will be helpful by understanding what happened in the past to help navigate positive future together."
From the announcement:
As treasurer for the library and finance chair for the RBBBoE, Viscomi has played a key role in budget planning by ensuring fiscal responsibility for the borough's largest budget. Her understanding of public sector. budgeting and planning is enriched by her 25+ year career as an accountant and CFO.
Viscomi has proven her dedication to transparency for the residents of Red Bank by introducing video recordings to borough meetings. For over a decade she has recorded live and shared hundreds of council, zoning board, planning board, and other community event meetings. She is dedicated to continuing her efforts in Red Bank by promising her role on the council would be as a watchdog for the residents. As a watchdog, Viscomi will champion planning that includes enforcement, timelines, and sensible budgeting.
Here's the full announcement: Viscomi announcement 022823
Viscomi ran unsuccessful races for council in 2012, 2013, 2018 and 2021.
If you value the news coverage provided by redbankgreen, please become a financial supporter for as little as $1 per month. Click here to set your own level of monthly or annual contribution.