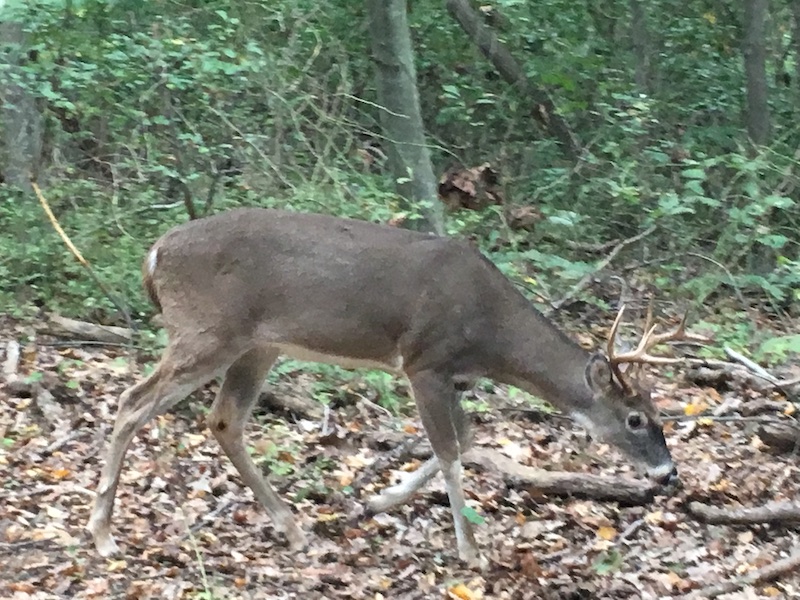 A deer at Hartshorne Woods in Middletown last October. The park is to reopen Saturday following Murphy's action. (Photo by John T. Ward. Click to enlarge.)
[See UPDATE below]
By JOHN T. WARD
Governor Phil Murphy rescinded his three-week shutdown of parks Wednesday while threatening to reverse course again if social-distancing guidelines are not maintained.
At his daily briefing on the COVID-19 crisis, Murphy also weighed in on an aborted plan by the Red Bank Regional board of ed to meet in person, saying his orders on public gatherings are the only ones that matter.
The state health department's COVID-19 online database reported another 329 deaths associated with the disease, pushing the total since March 10 to 6,770 New Jersey residents.
The tally followed the largest one-day increase in the death toll, though an unspecified number of the 402 fatalities reported Tuesday occurred over the preceding weekend, officials said.
Twelve more Monmouth County resident deaths were attributed to the disease, for a total of 317.
At the same time, Monmouth County's total number of patients testing positive for the illness rose by 32, to 5,907, according to the state. (Monmouth County government's daily report of cases was not immediately available.)
Here are the latest statewide COVID-19 figures:
Deaths since March 10: 6,770, up 329 from Tuesday
Positive tests: 116,264, up 2,481
Patients in hospitals: 6,289, down 187
Patients in intensive/critical care: 1,811, up 2
Patients on ventilators: 1,327, up 59
Patients discharged in preceding 24 hours: 474, up 55
Murphy said trendlines continue to show a slowing of new infections and improvement in terms of hospitalizations and patients needing intensive care and ventilators.
Related:
• With his executive order of April 7 being rescinded, Murphy said state parks are to reopen at sunrise Saturday morning, with "strictly enforced" social-distancing requirements and parking limited to 50-percent of usual.
The order also applies to golf courses, and restores to counties the authority to decide whether to reopen their parks.
Restrooms will be closed, and picnics and team sports will be prohibited, he said. Additionally, "you don't have to, but I'm asking you to wear a mask" when near other park users, Murphy said.
Murphy insisted he was not bowing to public pressure and protests calling for him to relent.
"Your interventions to me did not matter one little bit," he said. "With all due respect to all the pressure out there, we couldn't, frankly, care. We make this decision on data science, fact," as well as in consideration for the public's "mental health," he said.
He said his administration "will be looking very closely" at compliance and is willing to re-close parks "if we don't like what we see."
Red Bank Business Administrator Ziad Shehady, who in consultation with other officials followed Murphy's shutdown by closing borough parks, did not immediately respond to a redbankgreen email asking if they would now be reopened.
• In response to a question asked on behalf of redbankgreen, Murphy said he had not been aware that Red Bank Regional planned to hold an in-person public meeting on its budget Wednesday night. The district rescheduled the meeting for May 6, and it will not be in-person, Superintendent Lou Moore announced late in the morning.
Still, "folks should not be gathering, and we will enforce that," Murphy said. "There's only one set of executive orders that matters, and it's ours. Folks should be meeting virtually."
• Separately, the state reported no change at Red Bank's two longterm care facilities: 53 cases and 8 deaths at the Hackensack Meridian at Red Bank nursing facility (formerly Chapin Hill, on Chapin Avenue); and 11 cases and and 4 deaths at the Atrium at Navesink Harbor, on Riverside Avenue.
Across Monmouth County, 1,245 cases and 205 deaths have been associated with the pandemic, the state's website showed.
• Murphy gave a shout-out to Rumson-Fair Haven Regional senior Bobby Hoye, who ran a 26.2-mile marathon on a treadmill at home Sunday.
Hoye had trained for the New Jersey Marathon, which had been scheduled for Sunday, and decided to put his training to good use as a fundraiser for the Jersey Shore University Medical Center's COVID-19 Relief Fund.
The 26.2-mile run, which took 5 hours, 25 minutes and 16 seconds to complete, raised nearly $6,000, Murphy said.
"He didn't get a finisher's medal, unfortunately, but he has our deepest admiration and respect for his accomplishment," Murphy said.
[
UPDATE
] Monmouth County reported it had 5,980 COVID-19 cases. Here are the latest numbers by town, according to the county; local numbers may differ, as noted below:
Aberdeen: 181
Allenhurst: 2
Allentown: 6
Asbury Park: 133
Atlantic Highlands: 23
Avon-by-the-Sea: 10
Belmar: 16
Bradley Beach: 29
Brielle: 23
Colts Neck: 63
Deal: 23
Eatontown: 181
Englishtown: 29
Fair Haven: 22, up 1 from Tuesday
Farmingdale: 13
Freehold Borough: 280
Freehold Township: 526
Hazlet: 241
Highlands: 22
Holmdel: 181
Howell: 491
Interlaken: 1
Keansburg: 108
Keyport: 68
Lake Como: 14
Little Silver: 33, unchanged
Loch Arbour: 1
Long Branch: 361
Manalapan: 410
Manasquan: 28
Marlboro: 376
Matawan: 143
Middletown: 431
Millstone: 70
Monmouth Beach: 17
Neptune City: 41
Neptune Township: 337
Ocean: 221
Oceanport: 53
Red Bank: 139, up 
Roosevelt: 4
Rumson: 30
Sea Bright: 9
Sea Girt: 11
Shrewsbury Borough: 42
Shrewsbury Township: 8
Spring Lake: 12
Spring Lake Heights: 16
Tinton Falls: 152
Union Beach: 38
Upper Freehold: 37
Wall: 215
West Long Branch: 57
Unknown: 2
On Tuesday, when the county reported 21 cases in Fair Haven, borough police Chief Joe McGovern reported 14 "active cases" in town. In the borough's newsletter issued Tuesday, McGovern said the town had experienced 22 positive cases over the past six weeks, but 8 patients had recovered.
McGovern, who also serves as borough Office of Emergency Management director, tells redbankgreen that he speaks regularly to the Monmouth County Regional Health Commission and is able to remove patients as they are no longer quarantined.
The county, however, has not released data on recoveries.
As of Wednesday, the town had experienced no COVID-19 deaths among its residents, he said.