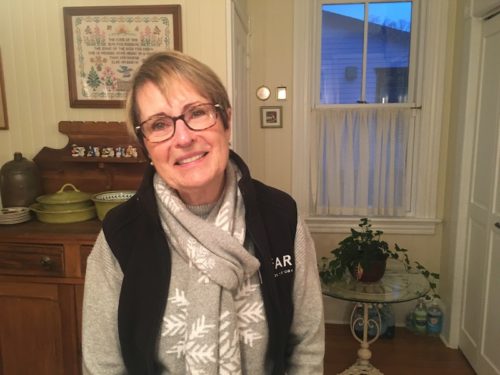 Former Councilwoman Kathy Horgan at home in December, above, and on the night of her first council win, in 2007, below. (Photos by John T. Ward. Click to enlarge.)
By JOHN T. WARD
What's a 77-year-old former Red Bank councilwoman to do when her political career ends and she's suddenly got loads more free time?
Go back to college, maybe. That's one item on Kathy Horgan's bucket list, she told redbankgreen.
Horgan with Councilwoman Sharon Lee in the 2008 centennial parade, above, and with Councilwoman Kate Triggiano at borough hall in October, below. (Photos by John T. Ward. Click to enlarge.)
On December 31, Horgan ended a 15-year stay on the council after opting not to seek a sixth three-year term amid bitter intraparty warfare among Democrats.
Her seat was filled Wednesday night by political newcomer John Jackson. With running mate Angela Mirandi, an appointee seeking a full term, Jackson was elected in November, defeating two Republican contenders.
During an interview in her 140-year-old Branch Avenue home last month, Horgan reflected on the course of her life in public service, and the turmoil that led her to end it.
In 1966, then still known as Kathy Arata, the native of Oyster Bay, Long Island, landed a job at the National League of Cities, in Washington, D.C., where she met her future husband, Drew Horgan.
The couple later lived in France and Holland for years, before relocating to Boston. While her husband worked at the Hague, in the Netherlands, Horgan, at age 49, enrolled at the all-female Wellesley College and moved into a dorm with women less than half her age.
Because male visitors were allowed to stay overnight on some occasions, Horgan said she would sometimes find herself sharing a bathroom sink with a young man.
"I'd be brushing my teeth next to like, this 20-year-old kid, and we'd be chatting," she recalled. "And, being the cleanliness nut that I am, I had my Windex and all my cleaning products, and I'd be cleaning the sink before I used it."
Drew Horgan died suddenly 20 years ago, at age 63. Soon afterward, his widow ventured into local government, accepting an appointment by then-mayor Ed McKenna to the zoning board. She ran for council and won a seat in 2007. Her victory, she said, was soured only by the loss by her running mate, Ed Zipprich.
"He really was the force behind us," she told redbankgreen that election night.
Horgan also ran for the state Assembly in 2011, but lost to a Republican ticket that included another Red Banker, former council member Jen Beck.
Through much of her time on the council, Horgan was closely allied with Zipprich, who won on his next try for council, in 2008. They were also personally close; she once vacationed in France with Zipprich and his husband.
But under Zipprich's leadership, the Democratic party, which has dominated Red Bank politics for the past 32 years, ruptured into two factions in 2018.
Horgan was reluctant to name names, but blames "egos" and meddling by elected officials in the nuts-and-bolts of local government for driving the train off the rails. That would not happen, she said, at the nonprofit AmfAR, the Foundation for AIDS Research, in New York, where she works as the liaison to the board of trustees and special assistant to the vice president of development.
There, board members "don't come in to the office unannounced, behind our CEO's back, to find disgruntled employees and get them riled up and really manipulate them," she said.
Increasingly, Horgan, and then-mayor Pasquale Menna, allied with council members Kate Triggiano and Hazim Yassin in a power struggle against Zipprich and Councilman Michael Ballard. And more and more, it played out in public.
"The one good thing that came out of COVID was Zoom meetings, because people could see what was going on," Horgan said.
The warfare included a bitter lawsuit Horgan and co-plaintiff Kate Okeson filed against Zipprich over Mirandi's 2022 appointment to fill a vacant council seat. Horgan and Okeson lost the case in a court decision in April.
Amid the turmoil, Horgan reversed her position of 2019, when she had opposed a study of the borough's charter and possible moves toward a new form of government and nonpartisan elections.
Why the 180?
"The council went off the tracks," she said. "We're all Democrats, and instead of working together, it seemed that we were working against each other. All the hostility and ugliness and nastiness wasn't producing anything. And change was needed."
Voters overwhelmingly approved the formation of the Charter Study Commission in 2021, and following its recommendations last year, again overwhelmingly approved a change in government and the election process.
In 2022, Horgan also got behind political newcomer Billy Portman, comedian-turned-building contractor and part-time singer, for mayor. He won in November, and also took office Wednesday night.
Portman's election bodes well, Horgan believes. "He wants to work together," she said. "He has said that. He's reached out to everyone."
Even with the "ugliness and nastiness" of recent years, Horgan said her time in government "really has enriched my life.
"All experiences enrich a person's life, whether it's positive or negative,"  she said. "Basically, I would say this was a very positive experience in my life."
Now, she said she plans to continue commuting to her job at AmfAR. At home, she expects to remain active with the Red Bank Public Library, as member of the fundraising foundation. She also intends to continue working with another organization she cherishes: the Red Bank Borough Education Foundation, which raises money to bolster school district needs. A lover of art, jazz and travel, she looks forward to feeding her appetite for all three, Horgan said.
She also hopes also to someday complete the credits needed to finally graduate from college, earning a degree in Art and Medieval and Renaissance Studies, she said. Ideally, she'd get it from Wellesley, she said, though a return to dorm life seems unlikely.
"Do I really want that now?" she said. "But why not? Actually, I could do it if I had to."
If you value the news coverage provided by redbankgreen, please become a financial supporter for as little as $1 per month. Click here to set your own level of monthly or annual contribution.