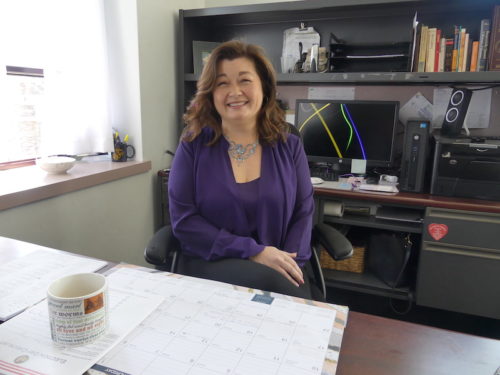 Borough Clerk Laura Reinertsen in her office last April. (Photo by John T. Ward. Click to enlarge.)
By JOHN T. WARD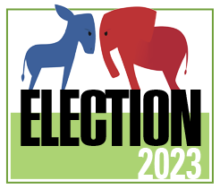 All 15 candidates for Red Bank mayor and council in the May 9 election submitted the minimum number of valid petitions to get on the ballot, Clerk Laura Reinertsen told redbankgreen Tuesday.
Up next: a drawing to determine the order of names on the ballot in the historic nonpartisan election.As reported Monday, two mayoral contenders and 13 council candidates met the March 6 statutory deadline for submitting petitions of candidacy.
On Tuesday, Reinertsen said she had completed the process of verifying that each had provided at least 78 valid petitions signed by registered Red Bank voters. All "cleared the bar," some with room to spare, she said.
Next, Reinertsen said she will hold a public drawing at noon next Wednesday, March 15, in the council chamber to determine the order of candidates' names on the ballot, with one column for mayoral contenders and another for those seeking the six available council seats.
Under the nonpartisan format, candidates run without their party affiliations, if any, listed on the ballot, according to final report of the 2022 Charter Study Commission. "The candidates may list a slogan on the ballot that does not exceed six words, though the terms cannot identify party affiliation," the report said.
In the race are:
• Council candidate Suzanne Viscomi, of Cedar Street, running solo.
• The "Red Bank's Ready" slate, led by first-term incumbent mayor Billy Portman, of John Street, seeking to retain his seat.
The slate includes second-term councilmember and Democratic party Chairperson Kate Triggiano, of Leighton Avenue; Ben Forest, of Locust Avenue; Kristina Bonatakis, of Riverside Avenue, Nancy Facey-Blackwood, of Chestnut Street; David Cassidy, of McLaren Street; and Laura Jannone, of East Bergen Place.
• The "Red Bank Together" slate, topped by slate mayoral candidate Tim Hogan, of Hudson Avenue, whose day job is president and chief executive at Riverview Medical Center.
His team includes Michael Ballard, of East Bergen Place, now in his second term on council; first-term council members Jacqueline Sturdivant, of Prospect Avenue, and John Jackson, of East Bergen Place; Sean Murphy, of Throckmorton Avenue; Linda Hill, of McClaren Street; and Erin Fleming, of River Road.
The election was forced by a November, 2022 referendum on whether the municipality should undertake an historic overhaul of both its form of government and its elections. By a margin of more than two-to-one, voters said "yes."
On July 1, the new mayor and council will be seated. At the same time, the borough form of government in place since 1908 will be reconstituted under the council-manager form available to municipalities under New Jersey law.
If you value the news coverage provided by redbankgreen, please become a financial supporter for as little as $1 per month. Click here to set your own level of monthly or annual contribution.