Mayoral candidates Tim Hogan, left and Billy Portman, right, at last week's dedication ceremony at the Senior Center. (Photos by John T. Ward. Click to enlarge.)
By JOHN T. WARD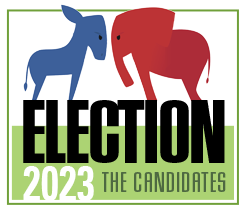 Red Bank's two mayoral candidates disagreed Monday on whether one of them has "refused" a call for a one-on-one debate.
A press release issued by the "Red Bank's Together" slate headed by Tim Hogan criticized incumbent Billy Portman for "refusing" to debate head-on, a stance Hogan called "a disservice to the people we seek to represent."
"The Two River Times and the Vogel Theater offered to partner and hold a debate," the release said. "Portman declined. Hogan requested that Portman pick a date, and 'we never heard back from him.'"
"Not true," Portman told redbankgreen in an emailed response to a request for comment.
"Tim called me to talk about a debate. I said 3 debates sounds like too many," Portman said, referring to the League of Women Voters of Monmouth County online event held April 3 and a redbankgreen-sponsored event called "Faceoff Over Red Bank's Future" slated for Tuesday night at the borough middle school.
During that March 24 conversation, Portman said, he and Hogan agreed to ask redbankgreen to "carve out some time for just the mayors to debate," at the Faceoff. With that request agreed to, "the matter was resolved," said Portman, who tops the "Red Bank's Ready" slate.
"That was the last I heard from Tim on the matter until he put out this nonsensical press release," Portman said.
Hogan did not immediately respond to Portman's version of events.
In addition to a mayor, voters will choose six council members from 13 candidates in the historic May 9 election. Starting July 1, the winners will constitute the legislative body in a new "council-manager" form of municipal government, replacing the "borough" structure that's been in place since 1908.
Portman, a general contractor, and Hogan, president of Riverview Medical Center, and their slates have agreed to participate in the "Faceoff," along with one unaffiliated candidate. Details about the in-person event, which also will be aired live via Zoom, can be found here.
If you value the news coverage provided by redbankgreen, please become a financial supporter for as little as $1 per month. Click here to set your own level of monthly or annual contribution.