Mayoral candidates Billy Portman, upper right, and Tim Hogan, lower left, with league volunteers during the forum. (Photo from Zoom. Click to enlarge.)
By JOHN T. WARD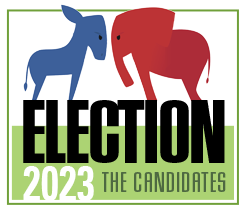 Red Bank mayoral candidate Tim Hogan's job as president of Riverview Medical Center would present a "massive conflict of interest" if he wins, incumbent Billy Portman said Monday night.
The two jostled for position at the first candidate showdown leading to an historic May 9 election.
Portman said that, in his work as a general contractor in the construction industry, he would not take on any work in town to avoid conflicts of interest. By contrast, Hogan "is the poster child for a conflict of interest," Portman said in his opening remarks at the online forum, hosted by the League of Women Voters of Monmouth County.
"In fact, there has been ongoing litigation between the hospital and the borough. It seems the hospital does not want to pay its fair share of taxes, and for the last seven years, Tim Hogan has been representing his employer against the interests of the voters of Red Bank," Portman said.
"Now, I've met Tim. He's a very nice guy. But Red Bank needs a mayor serving the borough, not serving two masters," Portman said.
Hogan said he would bring "integrity and professionalism" to the office. He said he was running because he is "tired and troubled by the divisiveness of our local government, and I believe this has prevented us from moving forward in a positive way."
"My job as a healthcare administrator at Riverview Medical Center has given me the right skills to be a successful mayor," he said.
Later, answering a question about community events, Portman said he was "trying to stay focused here, but I just can't get past the massive conflict of interest I'm feeling, that the president of Riverview hospital wants to also be the top, the mayor of Red Bank."
Addressing Hogan directly, he said, "it looks like you're sitting in your office at Riverview right now."
"I am, Bill," Hogan replied, adding that he would not "apologize to anyone for working with a fine group of physicians, nurses, team members and the community over 22 years to build a hospital that is vibrant, strong and one of the best in the state.
"Now, if there is an issue that pertains to the hospital and the town, and there have been only about three over 22 years, I will absolutely recuse myself from that process, so the decision can be made without me being involved," Hogan said. "At the end of the day, anything that Riverview tries to put through, or suggest they would like to be entertained to, that's going to have to be approved just like everybody else. Riverview is no different to Billy Portman asking to put an addition to his house."
The nonprofit East Front Street hospital, a unit of the Hackensack Meridian Health empire, is Red Bank's largest employer and a major landowner.
Portman and Hogan each top a seven-candidate slate in the nonpartisan election, which will result in a new council and mayor being seated July 1 under a "council-mamager" form of government, replacing the "borough" form in place since 1908.
Hogan's team bills itself as "Red Bank Together," while Portman's goes by "Red Bank's Ready."
Also in the race is an unaffiliated candidate, Suzanne Visomi, seeking one of the six council seats.
Recurring topics during the 105-minute forum included the stalled plan for a makeover of Marine Park; traffic; affordable housing; and cannabis zoning. Video of the event is available here. redbankgreen will have a separate report on the council portion of Monday's forum.
On Tuesday, April 18, redbankgreen is scheduled to hold an in-person forum, "Faceoff Over Red Bank's Future." Details about the event, which will be aired live via Zoom, can be found here.
If you value the news coverage provided by redbankgreen, please become a financial supporter for as little as $1 per month. Click here to set your own level of monthly or annual contribution.