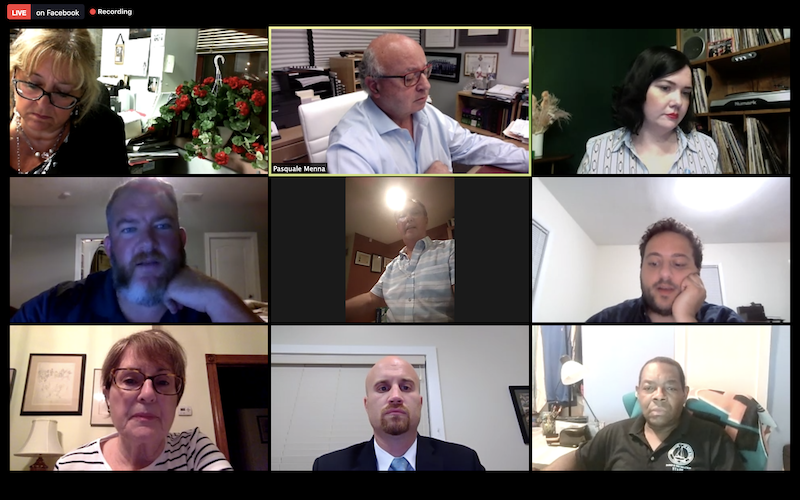 A screengrab of the council's session Wednesday night. (Zoom screengrab. Click to enlarge.)
By JOHN T. WARD
Rifts among Democrats were on almost nonstop display during a three-hour meeting of the Red Bank council Wednesday night.
While Councilman Ed Zipprich pressed for a probe into an email leak he said had smeared his reputation, at least two of his colleagues were more concerned about his intervention in the bidding for a new trash hauling contract.
But first, the all-Democratic body split over proposed budget cuts pushed by Councilman Michael Ballard that others saw as unwise.
Ballard's suggested budget amendments are highlighted in yellow. Below, council members Triggiano, Yngstrom and Yassin in 2019. (Zoom screengrab; photo by John T. Ward. Click to enlarge.)
• With a $22.4 million budget up for final adoption and $14.17 million to be raised from borough taxpayers, Ballard continued to press his case for additional spending cuts that he said had not gotten a full hearing.
Ballard said the "reasonable" and "scaled down" cuts he suggested totaled $153,381, and would trim the annual tax increase for the average homeowner to $81, from $115.
But those "guesstimates of what the budget could look like" had never been adequately addressed, Ballard said.
As they have before, Business Administrator Ziad Shehady and Councilman Hazim Yassin, who serves on finance committee with Ballard and Zipprich, disputed that assertion.
Shehady took aim at what he called "this constant insinuation that it's 'business as usual' and that there were no cuts made. We made many many cuts. This is not a political budget for votes. It's grounded in facts and knowledge of government operations and municipal law."
Councilwoman Kate Triggiano voiced frustration that residents have been claiming the council was ignoring cuts that she called "mythical."
"It's very upsetting that residents are saying we're ignoring cuts," she said. She asked Shehady to "go through every line" of the proposed cuts and explain why he advised against them.
Shehady did so, starting with the suggested reduction in codification expenses from $10,000 to $2,500. He said the cut could not be made because state statute dictates that new all new ordinances be codified, and that the money to pay for the service be budgeted.
Likewise, under public contracts law, funds to pay planning and zoning board attorneys must be certified as available for payment, whether or not they end up getting spent, he said.
Any budgeted funds that are not expended get rolled into the following year's reserve, Shehady said.
Regarding Ballard's call to cut $3,500 allocated for fire truck tires and $5,500 for firefighter training, Shehady pushed back against reducing money for a department that he said accounts for just $157,000 of the budget.
"It's probably one of the smallest of all the departments," he said. "An all-volunteer fire department that protects lives and property in the town and puts their lives at risk."
"I don't think reducing it any further is wise," he said. "Each one of those expenses is justified."
Yassin asked Ballard how he had arrived at his suggested cuts – if they reflected an across-the-board percentage cut, for example.
"There doesn't seem to be a rhyme or reason to them," said  Yassin.
Ballard said the cuts were figures he "threw out there for discussion" after looking at last year's budget and actual spending, as well as payments made so far this year.
When Yassin asked Ballard if  he had spoken to individual department heads about his proposal, Ballard replied, "No, because, as you you know, we're basically barred from having direct interaction with borough employees, and specifically department heads."
"That's just a total mischaracterization," said Councilman Erik Yngstrom. "I don't know where you're getting that from."
"I'm getting it from the employees," Ballard said.
Ballard told Shehady his list "was not the end-all and be-all. It was created to generate this exact discussion, so I appreciate you going through this line by line. "
He and others differed, however, over whether the same level of analysis had taken place over numerous finance committee meetings.
"The problem is we've had this same conversation like five times," said Yassin. "And every time we go through the budget and explain why certain cuts aren't viable, you tell me that you understand and you agree, and then the next day you propose the same exact cuts."
The suggested cuts were discussed "ad nauseam" at committee meetings, Shehady said. "Explanations and justifications were given for why the numbers were what they were."
"We can't have the risk of not budgeting for a fire truck if it gets a flat tire, we can't have untrained police officers," Triggiano said. "I really feel like this puts it to bed for me, that we have left no stone unturned."
When Shehady said the borough auditor had pronounced the budget a good one that maintains a healthy reserve, Ballard said, "this tells me finance committee recommendations have no merit, because the professionals will decide what the budget is, not the elected officials."
"At the end of the day, four elected officials are in agreeance on this budget," Yassin replied.
The vote to adopt the budget had Triggiano, Yassin, Yngstrom and Councilwoman Kathy Horgan in favor, and Ballard and Zipprich opposed.
Several residents commented on the friction among council members, including Angela Mirandi of Westlake Road and Rob Lowe of East Bergen Place.
"I really hope the dismissal of Councilman Ballard's proposals was not the result of the infighting going on within the council and being played out in the media, because the only people it's hurting are the taxpayers," said Mirandi.
"There's a slight degree of dysfunction on the council, unfortunately," said Lowe. "What can we do in 2021 that we don't have the same missteps?"
• The same 4-2 split emerged when a resolution calling for the appointment of a lawyer to look into an email leak was tabled, over objections by Zipprich and Ballard.
In the emails, as reported by redbankgreen August 5, Shehady raised concerns about what he termed Zipprich's "meddling" in the then-pending bid process to select a trash hauling firm for a new three-year contract.
Shehady also warned other elected officials that Zipprich might "sabotage" the bidding.
The leak was a "serious" breach of confidentiality "that affects the  way we do our jobs," and the probe should include the expertise of cybersecurity investigators to find the leaker, said Zipprich.
But Triggiano pressed borough Attorney Greg Cannon on whether any laws had been broken. If the leaked documents could have been released in response to an Open Public Records Act request, she asked why the council should embark on a taxpayer-funded "witch hunt" for the leaker.
Cannon said the investigation would determine whether any laws were broken. And "depending on who released" the material, "the consequences could be different," he said.
But the real issue, said Yngstrom, was "whether the bid process was undermined" by Zipprich.
"There's nothing in the press that would not have been OPRA-able, except for one minor email," said Yngstrom, an attorney. "The real issue here is the borough's open bidding process, and was it compromised."
He said he hoped an amended version of the resolution, one that is "focused on the correct issue" of the bidding process, would be brought up at the council's September 9 session.
"If laws and regulations  were violated, we should know, and the public should want to know," he said.
Mayor Pasquale Menna, also a Democrat, agreed that the council "cannot look at just one aspect" of the issue.
As previously reported, no bids were received on the contract. That forced the council to adopt an emergency measure to have the current hauler, DeLisa Demolition, continue picking up trash and recycling on a month-to-month basis.
Zipprich is seeking his fifth three-year term in the November election, and Ballard is seeking his second. They're expected to face Republicans Jonathan Maciel Penney and Brian Irwin.
If you value the kind of news coverage redbankgreen delivers, please become a paying member. Click here for details about our new, free newsletter and membership information.