A rendering of the proposed Thrive Red Bank project, as seen from Shrewsbury Avenue. (Rendering by CPA Architecture. Click to enlarge.)
By JOHN T. WARD
A proposed apartment building for adults with intellectual or developmental disabilities won approval from the Red Bank zoning board Thursday night.
Advocates called the approval historic, and said it would allow them to create a model for desperately needed housing for neuro-diverse adults.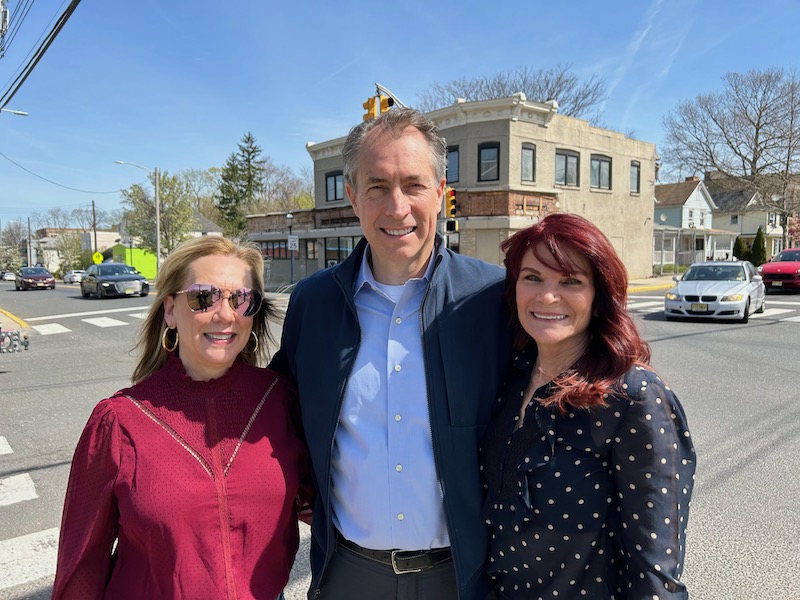 Thrive Red Bank would replace a vacant commercial building at 273 Shrewsbury Avenue, seen behind proponents Karen Fluharty and John and Robin Klein in April. (Photo by John T. Ward. Click to enlarge.)
At its second session hearing the application, the board, by a 7-1 vote, approved the plans by Thrive Red Bank for 32 single-resident apartments at 273 Shrewsbury Avenue, at the intersection with Drs. James Parker Boulevard.
The three-story building would provide supervised, independent living, community spaces and onsite, 24/7 support for neuro-diverse residents, said Karen Fluharty, the Rumson mother of a 21-year son with autism co-founder of the nonprofit Parents With a Plan, which sponsored the project.
The Rutgers Center for Adult Autism Services, under a public-private partnership, will provide learning opportunities for occupants in a teaching kitchen, a health room and other amenities, she said.
"It is our hope that this serves as a model that we can bring to other communities," Fluharty told the board.
The Shrewsbury Avenue property, she said, "is particularly optimum for the walkability" it will provide residents, who will hold down jobs and attend school, though few will drive cars.
Approval would "make a difference for a generation or more," said Mark Cartier, founder of the No Limits Café, a Middletown restaurant that employs adults with intellectual disabilities.
"When I look at this program, I look at the opportunities for empowerment," Cartier told the board during the public comment session. "When I think about things like diversity, equity and inclusion, there is dignity that comes with that. The ability to live on one's own, the ability to take care of oneself, should never be underestimated."
Cartier's daughter, 23-year-old Katie Cartier, who has Down's syndrome, told the board, "if I'm living there, I can walk to the gym, to the Count Basie," the train station and other destinations. "Please help me to have a chance."
Wallace Street resident Jane Kleiman, the mother of an adult with autism, stressed the need for housing other than institutions or "random, suburban settings" overseen by low-paid workers.
"I can tell you as a parent that the thing that keeps me up at night is this fear of who is not only going to take care of my son when when I'm no longer here, but who's going to care about him, who are going to be the people around him that know his needs, that know his personality, that know what he interests are, that are going to help him navigate the world?" she said. "That's what this project is all about."
"Red Bank has an absolutely golden opportunity to be an innovator with this project," Kleiman said.
The board heard testimony by Ed O'Neill, a planner and architect with SOME Architects, on the "inherently beneficial usage" criteria used under state land-use law to obtain variances: in this case for density, parking and more.
In addition, Thrive's attorney, former mayor Ed McKenna, said that since the August 17 session, he had met with representatives of the Monmouth County Engineer's office and obtained informal approval of a request that a yellow-curbed no-parking area in front of the property be reduced in length to 25 feet, from the current 60, pending approval by borough police.
Borough planning director Shawna Ebanks said Chief Darren McConnell, who was not present, had endorsed the change.
In September, 2021, the same board approved a plan for 10 apartments on the site, but would-be developer Warren Diamond never moved to the demolition stage. McKenna told the board that approval would be abandoned.
Thrive Red Bank will pay property taxes, McKenna said in response to question from board member Chris Havens.
Before the vote, board member Vincent Light said he had been concerned about the density of the project, but seeing "that there's only going to be one resident per unit, I don't have a problem with the density."
Paul Cagno cast the sole "no" vote, without comment. He had previously expressed concerns about the effects of delivery vehicles and ride-sharing services on traffic flow and parking at the intersection.
In other business:
• The board approved setback variances for St. Nicholas Place homeowner Michael Falzarano to build a single-car garage on the property.
• For the third time, a hearing on a plan for 32 apartments at 78 Bridge Avenue, opposite the train station, was postponed. The hearing is now scheduled to begin September 21.
The applicant, American Opportunity Zone Fund, is also controlled by Warren Diamond.
If you value the news coverage provided by redbankgreen, please become a paying member. Click here for details about our new, free newsletter and membership information.